Debra Barksdale strives to improve health care
Debra J. Barksdale, Ph.D., FNP-BC, ANP-BC, CNE, FAANP, FAAN, describes herself as an introvert. One would never imagine that based on the impact she is making nationally in nursing education.
A renowned educator, researcher, practitioner and advocate for improving health care, Barksdale is a highly requested keynote speaker at major nursing conferences and other health care gatherings nationwide. She has been the voice of the National Organization of Nurse Practitioner Faculties (NONPF), having served as its president for two years, president-elect for two years and two terms on the Board of Directors. She has also served on the Veteran's Choice Act Blue Ribbon Panel and is the only nurse on the Patient-Centered Outcomes Research Institute (PCORI) Board of Governors appointed by the U.S. Government Accountability Office under the Obama Administration.
In all of these roles she has been a passionate, vocal leader. But there's another side to her.
"Sometimes after talking to a lot of people I need to go somewhere and have my quiet moments. Someone once told me that's where I get my energy from," said Barksdale, who joined the School of Nursing as professor and associate dean of academic programs in January.
Jean Giddens, Ph.D., RN, FAAN, professor and dean, said Barksdale is truly an innovative thought leader in nursing education.
"Her stellar record of working to transform health care will be a huge asset to shaping our current and future academic programs," she said.
For Barksdale, VCU was the right fit.
"I was looking for an opportunity to grow in my career, share my knowledge and help another school," she said. "VCU seemed like it was that kind of place. It felt more collegial and like people were open to new ways of improving the school and the educational programs."
Coming to VCU also felt like returning home since she grew up in the rural community of Nathalie in Halifax County. During her childhood, Barksdale said a number of factors influenced her to become a nurse and educator. She recalled watching Julia, a weekly TV sitcom that starred Diahann Carroll as a young nurse. It was one of the first TV shows to depict an African American woman in a non-stereotypical role.
"She was my motivation," said Barksdale, noting that she knew by age nine she wanted to be a nurse.
An early love for learning led her to immerse her self in reading whatever she could get her hands on when she didn't have any books, including canned food labels. By the time Barksdale was in junior high school, her mother purchased a set of encyclopedias.
"Boy, I was in heaven then," she said. "I used to just read, read and re-read them."
She also used to make her siblings play school with her.
"I was the teacher and they used to have to sit there and listen to me," she said, chuckling.
After graduating from Halifax County Senior High School, Barksdale began her path to become a nurse. She obtained a B.S. in nursing from the University of Virginia, worked at UVA Hospital and later obtained a master's degree in nursing with an FNP concentration at Howard University, where she accepted her first teaching position.
She also obtained a post-master's certificate in teaching from the University of Pennsylvania and later a Ph.D. in nursing from the University of Michigan. Several career moves later, Barksdale joined the University of North Carolina at Chapel Hill, School of Nursing as assistant professor and coordinator of the FNP program. She rose through the ranks to become the school's first minority tenured full professor. She was director of its Doctor of Nursing Practice program before coming to VCU.
Recently invested as the school's Nursing Alumni Endowed Professor, Barksdale said she hopes to make the VCU School of Nursing a premier destination for prospective students.
"I want our school to become the place where everyone wants to come for a nursing education," she said.
Looking ahead, Barksdale plans to publish the data from her previous National Institutes of Health-funded study "Hypertension in Black Americans: Environment, Behavior, and Biology," the focus of her research.
A Robert Wood Johnson Foundation Nurse Executive Fellow Alumna, she also expects to continue her involvement in shaping nursing's future. One effort she proudly noted is a program she created to mentor six minority nursing faculty members at universities across the nation.
"They call themselves 'The Delta Six' and all are doctorally prepared," she said. "They call me 'momma Deb' and some of them are close to my age."
Barksdale also plans to continue serving on national boards and committees.
"For me I bring a unique perspective and a lot of my perspective comes from being a nurse of color – a person of color," she said. "I didn't grow up privileged so I can understand multiple perspectives."
"When these opportunities come along and they're in line with my values, I put myself out there," she added. "I'm always trying to do good work."
Lindsay Kunik provides hope to seriously ill pediatric patients with Butterfly Kisses Care Baskets
Lindsay Kunik
Lindsay Kunik was inspired to start the nonprofit Butterfly Kisses Care Baskets after meeting an 8-year-old pediatric patient named Ellie. The nonprofit, based in Charlotte, North Carolina, aims to support children with cancer and other serious illnesses by providing care baskets, packages and other supportive measures to families. The organization also aims to raise awareness of childhood cancer and other underfunded pediatric diseases.
"After Ellie passed away in 2010, my close friend Holly Walsh and I decided that we wanted to do something in her honor to help children like her," said Kunik, a senior at the Virginia Commonwealth University School of Nursing. "Butterflies were an important symbol to Ellie and her family during her illness. To me, they were also a sign of change and hope."
Since 2010, Butterfly Kisses has served more than 300 children with serious life-threatening illnesses. Both Kunik and Walsh visit local children in hospitals and their homes and mail packages to families throughout the U.S.
"For families that are not local, we create a collage with photos that the family provides to us," she said. In addition, the child and siblings receive a personalized goody box filled with small toys that are age appropriate, such as crayons, small art projects, jewelry, games, Play-Doh and stickers. If the child is local, they receive a larger care basket filled with art sets, fleece blankets, decorated pillow cases, handheld games, chalk and bubbles.
The visits often vary in length from a few minutes if the child is feeling sick to several hours.
"I can recall visiting a 2-year-old with leukemia a few years ago," Kunik said. "She was in inpatient care and we ended up playing with her on the floor for hours."
Kunik has also faced tough moments while running her nonprofit.
"We have had many children pass away after our visits and we have attended many funerals for these children," she said. "We attended the funeral for a 1-year-old who had passed away. Her mom saw us and was brought to tears that the 'butterfly girls' were there. I gave her a big hug and promised her that we wouldn't stop fighting for her daughter and children like her."
A traditional Bachelor of Science in Nursing student, Kunik is able to balance her schoolwork, extracurricular activities and the nonprofit effectively. She currently carries a 3.95 grade point average, is on the executive board of Friends of the ASK Childhood Cancer Foundation at VCU, is part of Nursing Students Without Borders and volunteers as a doula.
"During the school year it is harder to do as much as I would like, but I try to dedicate a little bit of time each day to Butterfly Kisses, even if it's just updating the Facebook page," Kunik said. "Butterfly Kisses doesn't feel like work to me — I enjoy it."
She has been interested in nursing as long as she can remember and hopes to work in labor and delivery after graduation.
"We have projects that I did in preschool that described me as wanting to be a 'baby nurse' when I grew up," Kunik said. She completed her women's health clinical rotation last semester. "It felt great to have those interests affirmed," she said, adding that she is interested in becoming a certified nurse midwife in the future.
Kunik's passion for women's health nursing was evident to Susan Lindner, clinical assistant professor in the Department of Family and Community Health Nursing at the VCU School of Nursing.
"During our clinical experiences together she was always working and helping other nurses and her peers, but when she went to labor and delivery she fell in love," Linder said. "We have discussed her progression in labor and delivery and women's health often."
Kunik is confident her education at the VCU School of Nursing has set her up for success for her future nursing career in women's health, as well as given her the skills to run her nonprofit.
"The School of Nursing has prepared me in many ways, far beyond technical skills," Kunik said. "I have learned those skills, but the school has also taught me a lot about communication and has given me the confidence to walk into a patient's room and assert myself as their nurse."
For more information on the work Kunik is doing with pediatric patients or how you can support Butterfly Kisses Care Baskets, please visit www.facebook.com/ButterflyKissesCareBaskets.
NIH-funded study explores effect of yoga on depression during pregnancy
Dr. Patricia Kinser (right) is joined by Amy Rider, project director.
The National Institutes of Health recently awarded a grant to the Virginia Commonwealth University School of Nursing for a pilot study that will examine how motivational interviewing and prenatal yoga might reduce or prevent depression during and after pregnancy.
Patricia Kinser, Ph.D., assistant professor in the Department of Family and Community Health Nursing, received the two-year, $456,579 grant for her project "Self-Management of Chronic Depressive Symptoms in Pregnancy."
"Nearly 20 percent of pregnant women experience depressive symptoms during pregnancy and 13 percent experience chronic, recurrent symptoms," said Kinser, whose research focuses on stress and depression in women and their families.
Depressive symptoms may significantly threaten a pregnant woman's well-being. In February, the U.S. Preventive Services Task Force, a government-appointed health panel, recommended that pregnant and post-pregnant women receive depression screenings.
"Appropriate treatment of depressive symptoms in pregnancy is essential, yet many women find the typical treatments such as antidepressant medications and psychotherapy insufficient to address their symptoms," Kinser said, adding that women are often concerned about the stigma and cost of drugs and the possible side effects on themselves or their babies.
"Pregnant women are in great need of safe, inexpensive self-management therapies to enhance their well-being, reduce the burden of symptoms during and after pregnancy and prevent chronic reoccurrence of depression," Kinser said.
Through the grant, Kinser will work with an interprofessional team to study whether the self-management intervention will help women proactively address current and prevent future depression occurrences. The team will use nurse-led motivational interviewing to engage 40 pregnant women in their self-care. The women will participate in prenatal yoga classes and at-home physical activity. The study will evaluate whether the intervention is feasible and has preliminary effects on symptoms. The team will also evaluate for changes in epigenetic patterns, which measure how the psychosocial environment can affect genetic expression.
"The intervention may be an important tool for enhancing self-awareness of symptoms and yielding sustainable health behavior changes," Kinser said. "This may allow a woman with depressive symptoms to gain skills relevant both for managing her current symptoms and for managing recurrent depressive episodes throughout her lifetime."
Kinser is joined on the study by co-investigators Leroy Thacker, Ph.D., associate professor, VCU School of Nursing; Tim York, Ph.D., associate professor, VCU Department of Human and Molecular Genetics; Suzanne Mazzeo, Ph.D., professor, VCU Department of Psychology, College of Humanities and Sciences; and Ananda Amstadter, Ph.D., associate professor, VCU Departments of Psychiatry, Psychology and Human and Molecular Genetics.
Kinser's study is also designed to strengthen student engagement in research. Undergraduate and graduate students from the School of Nursing and other departments across the university are already involved, including undergraduate nursing students Christine Aubry and Emilie Fleagle. Project director Amy Rider is also contributing to the research.
Christina Wilson works to improve body image in women with gynecologic cancer
Christina Wilson
Christina Wilson, RN, WHNP-BC (M.S.'13), realized she wanted to be a nurse while attending Nottoway High School in Crewe, Virginia after recalling a health scare she experienced at the age of nine.
She spent about 14 hours in a hospital to have cyst removal surgery.
"Doctors initially thought it was cancer," Wilson said, pointing to a scar just below her neck. "They had to remove it because it would have blocked my airway."
The entire experience prompted the thought of nursing as a career.
"I was thinking about the way the nurses treated me and my family," she said. "I wanted to make that kind of impact on patients as well."
Since then, Wilson, a Ph.D. student at the VCU School of Nursing, has spent her nursing career trying to make a difference in the lives of women. Her interest in women's health began while she pursued a B.S. in nursing at the UVA School of Nursing. Tara Albrecht, Ph.D., RN, ACNP-BC, assistant professor at VCU, taught Wilson at UVA and introduced her to patients with gynecologic cancer while she worked at the UVA Health System.
After completing her bachelor's degree, Wilson obtained a position as a registered nurse in acute oncology at VCU Health in 2011. She then enrolled in the master's degree program, women's health nurse practitioner concentration at the VCU School of Nursing and realized her true calling in a specialized aspect of women's health.
"I had patients with body issues -- they refused to look in a mirror because they didn't look how they used to," Wilson said. " I started looking for literature on how women with gynecologic cancer can improve their body image, but there wasn't anything."
Wilson said she shared her concern with Jo Robins, Ph.D., RN, ANP-BC, AHN-C, FAANP, associate professor and director of the Ph.D. program at the VCU School of Nursing, who advised her to "make a difference in a clinical setting" or "try to impact patients with research." Heeding that advice, Wilson decided to pursue a Ph.D. in nursing at VCU, which would allow her to explore the biobehavioral aspects of gynecologic cancer.
"The passion for making a difference in women experiencing gynecological cancer was sparked when she was a master's program and women's health nurse practitioner student, and since becoming a doctoral student she has wholeheartedly immersed herself in developing the knowledge and skills that will ensure that she will contribute significantly to health and health outcomes in this population," Robins said.
Wilson was recently selected for the highly competitive Jonas Nurse Leader Scholars Program of the Jonas Center for Nursing and Veterans Healthcare. She is one of 425 doctoral students nationwide chosen for the 2016-18 cohort.
The mission of the Jonas Scholar program is to increase the number of doctorally prepared faculty available to teach in nursing schools nationwide and the number of nurse leaders providing direct patient care and filling roles as clinical faculty. Sponsored by the Jonas Center for Nursing and Veterans Healthcare, the program provides financial assistance, leadership development and networking support to expand the pipeline of future nurse faculty and advanced practice nurses.
As a Jonas Scholar, Wilson will receive a $10,000 scholarship, matched by the VCU School of Nursing, to support her doctoral studies.
Wilson also achieved another milestone recently - she presented her first poster at a major nursing conference. Wilson worked with Deborah McGuire, Ph.D., RN, FAAN, associate dean of research and the Florence E. Elliott Professor, and Leigh Small, Ph.D., RN, CPNP-PC, FNAP, FAANP, FAAN, associate professor and chair of the Department of Adult Health and Nursing Systems, to prepare an abstract for the poster, titled "Body Image, Sexual Dysfunction and Sexuality as Predictors of Physical and Psychological Issues Related to Gynecologic Cancer." She presented the poster, which was based on a review she did while in Small's Ph.D. class, at the 2016 Southern Nursing Research Society annual conference.
McGuire described Wilson as "the ideal Ph.D. student" and said she is "bright, motivated and incredibly enthusiastic."
"She embraces learning and professional experiences with gusto, soaks up opportunities like a sponge and constantly seeks to improve her knowledge and skills," McGuire said. "It's a pleasure to work with her because she is exploring some important clinical research ideas and is very responsive to mentoring and support. Notably, she is highly appreciative of opportunities and recognizes the excellent environment we provide here to our Ph.D. students."
Wilson said the opportunity to work with mentors like McGuire, Albrecht and Robins is among the factors that drew her to the the VCU School of Nursing's Ph.D. program.
"The VCU School of Nursing has numerous outstanding faculty who could mentor me in this area of research," she said. "I also liked the proximity of the school, its highly ranked graduate program and the convenient online format for the Ph.D. program."
The recipient of the Waverly Cole Scholarship for the past two years, Wilson works as a VCU adjunct faculty member, teaching clinical aspects of two undergraduate nursing courses, while pursing her Ph.D. full time. She also helps recruit and follow up with patients involved in Albrecht's pilot project, "Physical Activity as a Self-management Approach to Improve Health Outcomes in Acute Myeloid Leukemia."
A member of the Oncology Nursing Society, Virginia Council of Nurse Practitioners and SNRS, Wilson volunteers in her spare time at Crossover Clinic in Henrico County twice per month.
"This opportunity allows me to see women and promote cervical cancer screening," she said. "My hope is to help prevent or detect it early."
Hard work, dedication and persistence - Indira Miller balances academics and community service
Indira Miller's interest in a nursing career dates back to when she broke her left fibula in two different places playing soccer at the age of five, while living on the island of Okinawa, Japan. Doctors told her she needed surgery and might not ever play soccer or any other sport again due to the severity of her injury. But a nurse made a suggestion that changed her outlook.
"The nurse taking care of me heard of a new type of cast treatment plan in Hawaii that was a good alternative to surgery," she says. "She first opened my eyes to a future in nursing."
Miller and her family traveled to Hawaii for the cast fitting and returned back to Okinawa, Japan. After her father finished his tour of duty on Okinawa, the family returned to Jacksonville, N.C. in May 2003. There she was able to start physical therapy and continue when the family moved again to Virginia Beach, where they now call home.
"The cast treatment worked well and I was able to play sports again with a brace within a year," she says, noting that eventually she was able to play without a brace.
After graduating from Ocean Lakes High School in Virginia Beach, Miller decided to pursue her interest in nursing. She applied to VCU with the goal of enrolling in the nursing program.
"It is the best nursing school in Virginia," says Miller. "The school has a long history of developing great well rounded nurses and successful NCLEX passing rates. "
Now in her second semester as a traditional B.S. student, Miller is already showing promise as a well-rounded future nurse. She carries a 3.9 G.P.A. and was recently selected to receive the VCU Board of Visitors Scholarship in recognition of her outstanding academic achievements and service to the University and the community. The one-year award is equal to in-state tuition and fees.
"This is a big weight lifted off my shoulders," Miller says.
Her university service includes being active in the Student Government Association on the Monroe Park Campus and serving as a secretary for Nursing Students Without Borders, where she also helps pre-nursing students with the application process and mentoring. In addition, Miller volunteers at the VCU Medical Center's NICU, teaching parents and guests proper hand hygiene and entertaining siblings.
The nursing sophomore has also made a memorable impact in class, says Susan Lindner, M.S.N., RNC-OB, clinical assistant professor, who taught Miller in the Health Assessment course last fall.
"On the first day of class, she stayed after class and waited to introduce herself to me and her dreams of becoming a nurse," Lindner says. "After that she always arrived for class prepared, asked very thoughtful questions and collaborated with her peers."
"I could see that she has the potential to not only be an excellent nurse, but also advance the science of nursing and impact patient lives," Lindner added.
Outside of her classes and involvement in student organizations, Miller has been involved in community outreach activities that include feeding the homeless, packaging food, helping to administer health screenings (blood pressure, blood glucose testing, A1C, health education) and much more. She says she learned of these various outreach activities through being a member of Emerging Healthcare Leaders, Health Occupation Students of America and the National Society of Collegiate Scholars.
"The warm feeling I get inside from helping someone in addition to happy smiles and faces is what motivates me to be so involved in student activities and volunteer in many community service events," Miller says.
Miller is also a student ambassador for the School of Nursing, where she gives school tours and assists with activities in the Clinical Learning Center. After graduation, she hopes to work in a neonatal intensive care unit and return to school to become a nurse practitioner.
Until then, she follows advice that she offers to prospective nursing students -- "anything you put your mind to can be achieved, especially through hard work, dedication and persistence."
"Keep your head held high and engines running -- there is light at the end of the tunnel," she says. "The reward of being a nurse and helping others is worth the hard work."
DNP focuses on quality and safety
With the increasing complexity of health care and the nationwide demand for more doctorally-prepared nurses, the VCU School of Nursing is poised to increase the number of expert practitioners prepared to translate research into evidence-based practice and lead teams of health care professionals toward improving patient outcomes. The School has launched a Doctor of Nursing Practice (DNP) program focused on quality and safety. The program is designed for working nurses to complete from just about anywhere.
Our DNP is a practice-focused doctorate that includes mostly online courses and minimal on-site experiences. Please review below some highlights and requirements to enroll in our program. Be sure to sign up to receive the latest updates.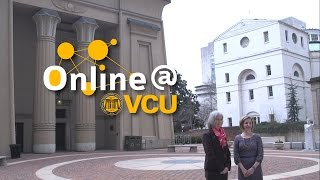 Doctor of Nursing Practice (DNP) Program Quick Facts
Learn what sets VCU School of Nursing apart.
Post-M.S. DNP program
Quality and safety focus - Our DNP program will produce graduates with the knowledge and skills to address the challenges patient quality and safety in the evolving health care system. With specific attention to quality improvement, leadership, health policy, and organizational systems, the VCU DNP curriculum will enable graduates to meet increasing demands to improve health care in a wide variety of settings.
7 required core courses; 12 credits of residency and 6 credits of Capstone.
39 credits
Full-time (5 semesters) and part-time (8 semesters) plans of study
Online delivery – Students will come to the MCV Campus of VCU three times per year at the beginning of each semester, generally for 2-3 days at a time. The remainder of the instruction will be delivered online.
Click here to view the DNP requirements.
Nursing Students Participate in Community-Based Care Coordination Program for Older Adults
The VCU School of Nursing is leading a community-based care coordination program that has become an interdisciplinary training ground for future nurses and a national model for community engagement.

The Richmond Health and Wellness Program (RHWP) brings together students from the VCU Schools of Nursing, Pharmacy, Medicine, Social Work and the Department of Psychology, to provide integrated care to residents in apartment buildings that are designated for older adults and those with disabilities. The program serves low-income older adults who have limited access to care or who need coordinated care. The goal is to improve the health and wellbeing of residents in their homes.

Through a weekly on-site clinic, VCU's interprofessional teams, overseen by licensed clinical faculty, work with residents to address high blood pressure, diabetes and other health conditions, as well as offer health promotion, medication management and primary care coordination as needed.

"Students are able to experience team-based learning while gaining experience interacting with older adults in their homes," said Pam Parsons, Ph.D., GNP, clinical associate professor in the VCU School of Nursing and RWHP project manager. "Many of these adults have issues with low-health literacy, or are unable to navigate to obtain medications, transportation or the urgent care services that they need in order to remain independent in their home settings. The RHWP's services help train the future health care work force while improving the quality life of our communities' older adults."

The VCU Council Center for Community Engagement provided internal funding that originally supported the program. In July 2013, the United States Department of Health and Human Services' Health Resources and Services Administration (HRSA) awarded a three-year, 1.5-million grant to the School of Nursing to expand and improve the program. Initially based at Dominion Place, a Richmond senior living facility, the RHWP has already expanded to two additional apartment buildings in the city and will provide services to a total of five buildings by later this year.

More than 160 nursing students have gained hands-on patient care experience in the Richmond Health and Wellness Program since its inception.

"What's most unique about this program is that students get to see residents within their home setting, while also having the opportunity to watch professionals across the spectrum of health care work together," said Parsons, who is also director for practice and community engagement at the School of Nursing. "We are so excited about the RHWP for Older Adults, as it is aligned with VCU's strategic plan and the Center, bringing services into the community and providing opportunity for students to develop leadership and clinical skills within interprofessional team settings."

In addition to Parsons, School of Nursing faculty involved in the RHWP include Fay Parpart, M.S., RN, ANP-BC, AACRN, clinical assistant professor in the Department of Family and Community Health Nursing; and Lana Sargent, M.S.N., RN, FNP-C, GNP-BC, clinical assistant professor in the Department of Adult Health and Nursing Systems.

Sargent said the program is so empowering to nursing students, as it promotes a leadership role in helping to coordinate patient care through curriculum and practice.

"It teaches them that they can be leaders within a health care team structure," she said.


Summer Research Fellowships
Anna Young, Rebekah Roby, Susan Ghodrat, and Jeff Petraco are VCU School of Nursing students participating in the UROP 2014 Summer Fellowship program.
What do studies on fibromyalgia, sickle cell disease, low back pain, and cardiovascular health have in common? These topics are being studied by four School of Nursing students selected for the 2014 VCU Undergraduate Research Opportunities Program (UROP) Summer Fellowship program. Susan Ghodrat, Jeff Petraco, Rebekah Roby, and Anna Young were among 33 students selected across the University to participate in the program.
Their selection represents more than a 50% award rate for the School of Nursing, which is an excellent outcome for any school, according to the VCU Office of Research. The students will work with nursing faculty who have collected data in the students' field of study. The faculty will serve as their mentors, working with them throughout the summer as the students develop and execute their own research. They will present their findings at the VCU Undergraduate Symposium/Poster Day in spring 2015.
In addition to working with faculty, UROP Fellowship participants receive a $1,500 cash stipend to defer the costs of their research. This year marks a record number of applicants and the first time program has been opened to accelerated B.S. nursing program students, which are students who already have a bachelor's degree in a discipline other than nursing.
Meet the School of Nursing students who were selected for this competitive research program:
Susan Ghodrat
Ghodrat, a senior Honors College student in the traditional B.S. nursing program, first learned of the research program when a former UROP Summer Fellowship participant visited Ghodrat's class to talk about her experience. Ghodrat had always fostered a passion for writing and felt like this opportunity would allow her to combine her love of writing and health sciences. During the UROP review process, Ghodrat's research was identified as a strong project for the Undergraduate Fellowship for Community Engaged and Translational Research (CE/CCTR) because of her focus on community engaged research. Ghodrat was one of only three participants granted the CE/CCTR Fellowship after a final review by the VCU Division of Community Engagement.
Ghodrat is working with Jo Robins, Ph.D., RN, ANP-BC, AHN-C, HTP, assistant professor in the Department of Family and Community Health Nursing, on a research project, titled "Exploring the Relationships between Mindfulness and Biobehavioral Factors Associated with Health Outcomes in Women."
"The science of how mindfulness affects physiology and ultimately health and health outcomes is becoming a rich evidence base that will inform clinical practice," said Robins. "This is a very exciting project that Susan is passionate about, especially since she uses mindfulness practices in her own life to navigate challenges as they arise"
Ghodrat's project involves a secondary analysis of baseline data that is being collected in Robins' ongoing study, which examines factors that put women at increased risk for cardiovascular disease. Ghodrat's goal is to examine the nature of the relationships between mindfulness and biobehavioral factors associated with cardiovascular health outcomes in women. She plans to address specific biobehavioral factors that include mindfulness, perceived stress, depressive symptoms, fatigue, lifestyle, and other factors.
In addition to her studies, Ghodrat works as a care partner on the Cardiac Surgery ICU Unit at the VCU Medical Center's Critical Care Hospital and volunteers as an undergraduate teaching assistant for UNIV 112 and 200 courses. She plans to graduate next May.
"Nursing is the most rewarding and affirming way to work with people," Ghodrat said. "I continue to fall in love with the work I do."
Jeff Petraco
Petraco, an accelerated B.S. nursing student who is turning 60 this year, said that being a nursing student at this stage of his life while pursuing such an in depth research project "is both exciting and challenging."
Before moving to Richmond four years ago, he worked as the bureau director of operations for the Pennsylvania Office of Developmental Programs (ODP) in Harrisburg, Pa. His work opened his eyes to the critical need for additional clinical resources for individuals with autism and traumatic brain injury. Petraco said he had considered becoming a nurse for more than 30 years and finally decided to pursue it as a career and make a difference in the world.
"My goal was to work in a stimulating, dynamic environment with the opportunity to work with folks in a helping profession," said Petraco. "The School of Nursing is preparing me to do just that."
Petraco is working with Angela Starkweather, Ph.D., ACNP-BC, CNRN, associate professor and chair of the Department of Adult Health and Nursing Systems, on his study, titled "Measures of Pain Sensitivity that Discriminate Responders from Non-Responders after Receiving a Non-Invasive Neuroelectrocutaneous Therapy for Persistent Low Back Pain."
Petraco's research involves looking at data Starkweather collected in her pilot study, which is consistent with data currently being collected in her grant, "Pain Sensitivity in Low Back Pain." He is examining the data collected from Starkweather's quantitative sensory testing protocol, as well as gene expression data, in order to determine whether there were specific factors that influenced treatment effectiveness.
"Jeff is collecting important information that clinicians use to decide whether a treatment should be offered and it will help guide us on toward the next stage in this program of research," said Starkweather. "We are extremely fortunate to have Jeff working with us."
Before coming to VCU, Petraco earned a bachelor's degree in psychology from Dickinson College in Carlisle, Pa., and a master's degree in health care administration and management from Temple University's Fox School of Business in Philadelphia, Pa. He plans to graduate from the School of Nursing in December 2014.
Rebekah Roby
Roby, a student in the accelerated B.S. program who earned her bachelor's degree in international relations from Boston University, said she aspires to become a psychiatric nurse and wants to provide supportive and nonjudgmental care.
"In our society, we're very focused on how we can fix certain things, but we overlook how chronic disease affects a person," said Roby. "I want to be a part of the movement that looks at patients' quality of life issues and sees a person as a whole."
Roby is working with Suzanne Ameringer, Ph.D., RN, associate professor in the Department of Family and Community Health Nursing. Her study, titled "Depressed Mood, Anxiety, and Stress in Adolescents and Young Adults with Sickle Cell Disease, " is a secondary analysis of Ameringer's study, titled "Biobehavioral Factors and Fatigue in Adolescents and Young Adults with Sickle Cell Disease." In looking at data Ameringer collected, Roby is focusing on analyzing the levels of depressed mood, anxiety and stress within the study population to determine how these variables are associated with quality of life.
"Rebekah possesses rich experiences and unique skills to conduct this project," said Ameringer. "She already holds a bachelor's degree in international relations from Boston University, during which time she studied abroad and had the opportunity to work with a member of the United Kingdom Parliament summarizing articles."
Roby works as a care partner on the Acute Care Oncology Unit at the VCU Medical Center's Critical Care Hospital. In her spare time, she has volunteered with the Sophie House, which works with single mothers to provide job training and goods such as clothing and food. Roby plans to graduate in December 2014.
Anna Young
Young, an accelerated program student, first earned a bachelor's degree in literary and cultural studies from William and Mary, but always maintained an interest in nursing. With her mother's encouragement to pursue her passions, Young decided to enroll at VCU's School of Nursing.
Young will be working with Victoria Menzies, Ph.D., RN, PMHCNS-BC, assistant professor in the Department of Adult Health and Nursing Systems, on her study, titled "Polypharmacy and Symptoms of Pain in Women with Fibromyalgia."
"I was really excited about the opportunity to work with Dr. Menzies because she has dedicated a lot of her career to studying fibromyalgia and her research is really interesting," said Young. "I also loved her holistic approach to nursing care."
Young is looking at data Menzies collected in two of her previous studies that involved women being treated for fibromyalgia. Young hopes to determine the relationship between the baseline pain scores women reported and the reported pain medications women were taking at the time of entry to the study. Additionally, Young is analyzing statistics with Menzies and Leroy R. Thacker II, Ph.D., associate professor and biostatistician in the Department of Biostatistics and Data Services, and collaborating with Sallie D. Mayer, Pharm.D., M.B.A., BCPS, assistant professor in the Department of Pharmacotherapy and Outcomes Science at the VCU School of Pharmacy. Through her research, Young will have the opportunity to experience collaborative work and learn the importance of baseline information as preliminary data for grant development.
"I am honored to be working with Anna," said Menzies. "She is an innovative and enthusiastic nursing student whose dynamic interest is something that the nursing profession can benefit from.
Outside of the classroom, Young works as a care partner at the VCU Massey Cancer Center, where she helps patients with activities of daily living and prepares IVs and EKG tests. She also volunteers at Mission of Mercy events taking vitals, checking glucose levels and providing education to underserved populations. She plans to graduate in December 2014.
"I know that our nursing instructors are extremely busy and work so hard, yet they find time to include students in their research," said Young. "I really appreciate all of the support they give us."
Ensuring Patient Safety
"I want to pass on what I have been learning in this country about nursing and research so that nursing science continues to move forward."
Emily Dowell, an accelerated bachelor's degree student, has already had the opportunity to make a difference in someone's life.
Dowell demonstrated exceptional attention to detail during her recent clinicals on the acute care medicine floor at the VCU Critical Care Hospital. She pre-assessed a patient the day before she was scheduled for a new peripherally inserted central catheter (PICC) and requested to sit in and observe the procedure. The medical team began preparing a surgical placement with the drug heparin, but Dowell remembered learning in her pre-assessment that the patient had experienced a severe allergic reaction to heparin in the past. Though she was initially worried about speaking up against what the medical team was doing, Dowell voiced her concerns and the team verified that she was right and removed the drug from the room.
Dowell's attention to detail led to her being awarded the VCU Health System (VCUHS) Safety Star this spring.
"Your actions show that it's okay to speak up no matter where you are on the power grid," said John F. Duval, chief executive officer of VCU Health System hospitals. "You listened to the voice in your head and your actions made a contribution to the patient and enabled the hospital to do even better work."
"The work you do really makes a difference," Jean Giddens, Ph.D., RN, FAAN, dean and professor of the School of Nursing, told Dowell at the award ceremony. "You set such a great example for other nurses to follow."

Dowell said that her clinical instructors at the School of Nursing always encourage her to ask questions if she is unsure of something, so she used their advice to speak up in that critical moment.
"It's not easy to speak up as a student when you don't know if it's your place to call something out," she said. "But I decided that I would rather say something and risk being wrong than not say anything and watch something bad happen to the patient."
Even before she proved her skills that day at the hospital, Dowell seemed destined to work in health care. She grew up in Chesapeake, Va., hearing stories of her mother's work as a nurse midwife and of her late grandmother's 50 years of experience as a nurse. Dowell attended Virginia Tech and earned a bachelor's degree in biology and psychology in 2010 with the intention of becoming a doctor. She took the Medical College Admission Test (MCAT) and began applying for medical schools, but knew this was not the right career path for her.
After earning her undergraduate degree, Dowell worked at a local Y.M.C.A and volunteered at hospitals on her days off. Though she knew she didn't want to become a doctor, she maintained a love of the medical field and chose to pursue nursing instead.
"VCU was the only school I applied to," said Dowell. "I loved that the School of Nursing has an accelerated nursing program and that the VCU Medical Center has a level one trauma center. I felt like I would have more opportunities by attending this school."
Dowell is also making an impression in the classroom where she is excelling as a student.
"Emily is in my adult health nursing class and a pleasure to teach because she understands the role of the nurse and the hard work necessary to be successful," said Tracye Proffitt, M.S., RN, CCRN, clinical instructor in the Department of Adult Health and Nursing Systems. "She is eager to learn, conscientious, and takes initiative. I am so proud of her attention to detail and questioning attitude that prevented an adverse reaction."
Outside of her role as a student, Dowell is a care partner on the Gumenick Suites at the VCU Medical Center where she assists nurses with patient care. Dowell is also a member of the Student Nurses' Association and a student ambassador. As a student ambassador, Dowell leads tours for potential future nursing students and assists groups of middle school students with simulation nursing experiences in the School of Nursing's Clinical Learning Center.
Dowell said after she graduates she plans to work a few years in a hospital setting and then further her education. She said her positive experience with clinical instructors and professors at the School of Nursing have solidified her decision to eventually return to VCU.
"Everyone at the School of Nursing wants you to be the best nurse you can be," said Dowell. "I've had so much support here that I can't imagine going anywhere else for my next degree."
Excelling in Academics and Service
Erica Neary (seated), explains how to properly use a cheek swab to collect DNA for the bone marrow registry.
Erica Neary, a rising senior nursing student minoring in psychology, first developed an interest in nursing at a young age when an ill family member was being treated frequently at area hospitals. Neary felt powerless and desired to learn more about health care and science. This desire resurfaced when Neary was a senior at Lloyd C. Bird High School in Chesterfield County, Va., and she participated in an art therapy program for special education students. Neary said she enjoyed the therapy aspect of her interactions with the students, but once again felt a calling to know more about the science behind their needs in order to help. With her passions realized, she chose to attend the VCU School of Nursing as the perfect place to develop the skills she needed to pursue her medical interests.
"I'm really enjoying the well-rounded education I receive through the School of Nursing," Neary said. "I'm able to take what I learn in lecture and apply it directly to my clinicals."
Neary, an Honors College student, was recently recognized for excelling in academics and service. She received the Donald Gregory Scholarship, a merit-based $6,000 award presented to 36 full-time undergraduate students nationwide who are members of the national honor society, Phi Eta Sigma. This award is given to a candidate who maintains at least a 3.5 cumulative GPA, participates in local chapter activities, and has demonstrated creative ability and the potential for success in their chosen field.
"If I had to pick three words to describe Erica, they would be: kind, gentle, and thoughtful," said Daphne Terrell, M.S.N., RN, CNRN, clinical instructor in the Department of Adult Health and Nursing Systems. "In addition to these great attributes, she was always eager to learn in my clinical group and her patient care was excellent! I'm so proud of her and I know she will do well in the future."
Outside of the classroom, Neary exudes a passion for service work. She has volunteered more than 150 hours towards fundraising and outreach programs through organizations such as the National Society of Collegiate Scholars, the Golden Key International Honour Society, and Phi Eta Sigma. Recently, Neary and other Phi Eta Sigma members planted 300 trees at Richmond's Wastewater Treatment Plant. She has also volunteered at fundraisers for the St. Jude Children's Research Hospital, Virginia Blood Services, the American Heart Association, and the Central Virginia Food Bank.
Neary is also actively involved with nursing organizations. She is the vice president of VCU's chapter of Nursing Students Without Borders, where she works with members to bring awareness of medical conditions and healthy lifestyle changes to the community. She is currently planning the group's annual service trip to Guatemala to improve the quality of life and health of villagers.
In addition, Neary combines her passion for science and service work as the community service/philanthropy chair of the Student Nurses' Association. She planned a bone marrow registry event in March through VCU's Be the Match on Campus chapter, a division of the National Marrow Donor Program, to match patients in need of a bone marrow transplant with donors. Faculty, staff and students at the Jonah L. Larrick Student Center participated in a simple cheek swab to be potentially matched with local patients diagnosed with blood cancers like leukemia and other blood diseases such as sickle cell anemia.

"It's amazing how a simple bone marrow donation can save another person's life," Neary said. "The more I read about this process, the more I was convinced that if even just one person was added to the registry and successfully donated, we would have made a difference."
Neary is seeing the difference people make each day in her work as a care partner on the Cardiac Heart Center floor at the VCU Medical Center. In this role, Neary draws patients' blood, prepares IVs, and regularly checks glucose levels.
"I would be lost without my clinicals," Neary said. "I'm gaining invaluable experience while also using the knowledge I'm developing in class to understand and analyze the actions nurses take on the floor."
After graduation, Neary says she would like to work on a cardiology floor for a few years before transferring to an intensive care unit or an emergency room. Eventually she plans to apply to the VCU School of Allied Health Professions' Master of Science in Nurse Anesthesia program so she can one day work on a delivery floor and learn how to administer epidurals.
"The experiences I've had at the School of Nursing have already widened my perspectives to all the opportunities out there for me to use medicine and science to make a difference in this world," Neary said. "I now have a more focused direction of where I want to go."
A Scholar and Leader
Johnathan Ramey (center) assists accelerated bachelor's degree program students Jeff Petraco and Dara Getachew in the Clinical Learning Center.
At age 18, many college-bound students are still deciding on their majors. While still in high school, Johnathan Ramey already knew he would pursue nursing after shadowing his aunt, Kimberly Manning, RN-CNIII, at the Carilion Roanoke Memorial Hospital in Roanoke, Va.
Manning often discussed the nursing field with her nephew. She offered him the chance to shadow her in the Progressive Care Unit (PCU), an experience that triggered his passion for nursing.
"I loved the type of interaction and hands-on involvement nurses had with their patients," said Ramey, who graduated in 2011 with honors as valedictorian at William Byrd High School. "Getting the chance to experience that while working at Roanoke Memorial solidified the idea that nursing was the right career path for me."
Ramey knew he wanted go to college, but it was a difficult decision to leave Roanoke, Va. He is the youngest of three kids, the first to pursue a college degree and the first in his family to leave the Roanoke area. But he didn't let those factors deter him. He decided to attend VCU knowing that he had guaranteed admission to the nursing program through enrollment in the Honors College.
"I'm really glad that I made the decision to go to VCU," Ramey said. "I feel like I've had incredible opportunities through my involvement with the School of Nursing. The faculty and students have helped me grow to be both a better student and person."
Ramey is already exceling as a nursing student, which has led to him receiving several scholarships. As an incoming freshman, he was awarded the merit-based 2011 Dean's Scholarship, which was equal to the cost of half of in-state tuition and fees. He was also awarded two nursing scholarships in 2012: the Hartsell and Koslofski Scholarship, established by Ann M. Mueller to help educate more nurses, and the Mary Elizabeth Anderson Memorial Scholarship, created by Henry Anderson to honor his sister's commitment to the care of others during her nursing career. Through the Honors College, Ramey received the Marcus and Carole Weinstein Honors Scholarship, a $2,000 scholarship awarded to honors students of exceptional promise in any area of study, in 2011 and 2013. In 2012, he earned the Jay and Sondra Weinberg Undergraduate Scholarship, a $3,000 scholarship awarded to honors students in good standing, progressing satisfactorily toward graduating with University Honors.
Ramey's commitment to nursing excellence is making an impression throughout the School of Nursing.
"Johnathan has been such a joy to work with in the Clinical Learning Center - he is mature, professional and I know that students and faculty alike love working with him," said Genevieve Beaird, RN (B.S. '09/N, M.S. '11/N), assistant director of the Clinical Learning Center. "Johnathan represents many of the qualities that we would want to see in our future nursing workforce."
While majoring in nursing, Ramey is also pursuing a minor in both chemistry and Spanish. For many years he thought he would become a Spanish teacher, but the School of Nursing provided the perfect avenue for him to combine his love of Spanish with health care. Ramey said he plans to be fluent by the time he graduates so language barriers won't impact his ability to provide care for patients. He is even in the process of applying for a study abroad program in Mexico this summer.
In the meantime, Ramey juggles being a full-time student with working part time and serving as a student leader. He is class director for the Class of 2015, serving as a liaison between his nursing class and the school's leadership.
"I've had the opportunity to meet and speak with people I never would have dreamed of meeting," Ramey said.
He also represents the School of Nursing as a member of the Medical College of Virginia Student Government Association (MCV SGA), where he serves as treasurer, the only nursing student to serve on the executive board in recent history.
In addition to roles as the class director, MCV SGA treasurer and a full time student, Ramey works as a shelving assistant at the James Branch Cabell library and a student ambassador in the School of Nursing's Clinical Learning Center, where he helps nursing students practice their medical skills. Although he has little free time, Ramey has no regrets.
"The School of Nursing has given me all the tools and opportunities I need to be successful," said Ramey, who aspires to work in an intensive care unit for at least a year before applying to VCU's graduate program in nurse anesthesia.
"Leaving home and attending VCU was a life-changing decision and I'm looking forward to what the rest of this semester and my senior year have in store," he said.
The Power of Courage and Compassion
"Gernita Lee cares for a patient in the Cardiac Progressive Care Unit at the VCU Medical Center. "
If you were to sit beside Gernita Lee, RN (B.S. '11/Nursing), in class or observe her caring for patients in the Progressive Care Unit at the VCU Medical Center, you might not realize just how extraordinary she is. A graduate student at the VCU School of Nursing, Lee has faced many challenges on her way to a career in nursing. But she has not let family obligations, school and a sudden serious medical condition hold her back.
At a young age, Lee, along with her husband, took custody of her two siblings to remove them from a dangerous family environment. Even with her added responsibilities, Lee became the first in her family to graduate from college. She started by earning a health care technician certificate from J. Sargeant Reynolds Community College and passing the certified nurse assistant (CNA) certification exam in 2004. Shortly after earning an associate's degree in applied science from J. Sargeant Reynolds, she passed the NCLEX exam to become a registered nurse. While enrolled at J. Sargeant Reynolds, she worked at the VCU Health System, initially as a care partner on the acute care oncology floor until she received her RN license and was promoted to registered nurse on the acute care medicine floor. The nursing staff at VCUHS pushed her to further her education and set greater goals, according to Lee.
"Two of the nurse practitioners I worked with, Nicole Carter and Renee Seaman, along with Dr. Georgia McIntosh were consistently on me to go back and earn a bachelor's degree," Lee said. "They didn't want me to be afraid to dream and now I try to always encourage others to pursue their passions."
In 2009, Lee took their advice and enrolled in the VCU School of Nursing's RN-BS program.
"VCU is conducive to interdisciplinary collaboration between the physicians, doctors, and nurses who all work together as a team instead of simply taking orders," said Lee, who served as co-chair of VCU Health System's Medicine Professional Practice Council from 2010 to 2011. "I knew that this was the right school for me."
Victoria Menzies, Ph.D., RN, PMHCNS-BC, assistant professor in the Department of Adult Health and Nursing Systems, described Lee as "an engaged, enthusiastic and bright student."
"I noted her ability to work well with a team," said Menzies, who taught Lee in the Foundations of Professional Nursing I course (NURS-307). "Developing a group presentation with your peers in an academically challenging course has the potential for those with innate leadership skills to stand out. It was apparent that Mrs. Lee was respected by her peers."
While seeking her undergraduate degree, Lee had a medical emergency that would change her life and lead her to her current career path. In 2010, she experienced a relentless headache that she soon learned was a side effect of Coxsackievirus. This virus is generally a hand, foot, and mouth (HFM) disease that can attack the central nervous system, digestive system and heart. At age 25, Lee suffered from an enlarged heart from the virus and was at risk for heart failure.
With determination and the support of her professors, Lee was able to continue her studies. Even while being treated for six days at the VCU Medical Center, she wrote course papers and completed her assignments so she would not fall behind.
After graduating, Lee worked as a shift resource coordinator on the Progressive Care Unit at Bon Secours St. Francis Medical Center in Midlothian, Va., where she assisted the medical team in the prevention and treatment of illness, monitored critically ill patients' response to advanced care practices, and supervised other nurses.
Lee, a mother of three young children, now works for the VCU Health System as a registered nurse on the Cardiac Progressive Care Unit. She said her own experience with heart failure motivated her to work in the cardiology unit, where she provides empathetic care as she monitors blood pressure, assesses pain, and cares for heart failure patients and patients recovering from heart and thoracic surgeries.
The recipient of the Commonwealth Award, a merit-based, partial scholarship given through the VCU Graduate School, Lee is pursuing the adult-gerontology acute care nurse practitioner concentration for her master's degree. Since starting her graduate education, Lee said her thought process has shifted to a "diagnosis mindset" and she has developed new tools and skills she can apply in her work.
"Before seeking my graduate degree, my mind frame was always, 'What do I need to tell the physicians?'" she said. "Now I am tasked with planning patient care myself and I'm better equipped to take on leadership and decision-making roles."
Throughout her educational and professional journey, Lee has pushed the siblings she rescued to succeed and has led by example to show that they too can accomplish anything. Her sister is attending VCU to earn a degree in criminal justice and her brother serves in the U.S. Marines.
Lee, who grew up in public housing in Newport News, Va., plans to use her nursing knowledge to help low-income communities. She said her husband, Sergeant Ishaq Lee, who works for the VCU Police Department, volunteers once a month to visit elementary schools and has seen firsthand a distrust that some low-income community children have in opening up to police officers. Lee has seen this same hesitation in patients who are reluctant to speak with medical professionals, so together they are planning community outreach projects.
Lee said she would also like to work in an inner city emergency room or Richmond's Fan Free Clinic someday.
"I'm excited to be volunteering in the community because I want to see this new generation form relationships with medical professionals and trust the care they receive," Lee said. "I've never let my past stop me from achieving my goals and I want these children to have the tools they need to live a healthy life so they can pursue their dreams."
Dedicated to Patient Safety
"Stacie Boston accepts her Safety Star Award from MCV Hospitals CEO John Duval."
Stacie Boston was not a typical undergraduate nursing student. A VCU 2001 Magna Cum Laude graduate in Spanish and Biology, Boston taught preschool and high school Spanish and volunteered in Honduras, Guatemala, the Dominican Republic, and Cuba through Habitat for Humanity, Pastors for Peace, and Global Crossroads. She had also been enrolled in medical school prior to becoming a nursing student, but found she wanted a more direct connection to patients.
"The hands on aspect of nursing is what I love," Boston said. "I'm able to make and see the difference immediately."
Boston has already experienced first hand what it's like to make a difference in nursing. During her clinicals on the neuroscience unit at the VCU Medical Center in spring 2013, she discovered a manufacturer error in IV packaging. While gathering supplies to start an IV, she noticed that there were 20 gauge IV catheter needles in blue packaging instead of the correct pink color. This posed a threat to patient safety as it could easily be confused with the 22 gauge IV needles that come in standard blue packaging. The wrong gauge needle could be used on a patient unknowingly leading to problems in medication administration or increasing the risk of patient injury or infection, Boston said. The discovery led to her being awarded the VCUHS Safety Star this summer, the first time a nursing student has received this award.
"Stacie's discovery of this manufacturing error speaks volumes about her ability to pay attention to details and why it is important to do so," said Daphne Terrell, RN, CNRN (M.S. '10/N), clinical instructor in the Department of Adult Health and Nursing Systems. "This discovery was early in the semester and it is just one example of how thorough she is. I'm so proud of her and it was a pleasure to have her in my group."
A 2013 December graduate, Boston desires a career in pediatric nursing. Her background has prepared her well to work with children.
The recipient of a master's degree in early childhood education from the University of Phoenix, she has served as a camp counselor at the Muscular Dystrophy Association's summer program in Wakefield, Va. Boston has also completed a nursing student externship at Children's Hospital of the King's Daughters (CHKD) in Norfolk—the same hospital where her nephew gets treated for sickle cell. As an extern, she worked alongside nurse preceptors in the short procedure and rehabilitation units.
"The externship at CHKD was a wonderful opportunity to truly experience what it is like to be a nurse. I was responsible for providing complete nursing care to the patients under the guidance and expertise of my nurse preceptors," Boston said. "Working a full time nurse's schedule for 10 weeks really showed me the importance of proper nutrition and rest! The externship improved my skills in the nursing process, reinforced my critical thinking, and exposed me to a multitude of pediatric illnesses, conditions, and treatments."
"I was able to form therapeutic relationships with the patients and their families. It helped to give me more confidence and motivation that pediatric nursing is right for me," she added.
Currently, Boston volunteers at the Cross-Over Clinic in Richmond assisting with Spanish/English interpretation and medical services, and also teaches English classes to Spanish-speaking adults with the Bridge CDC. She works as a care partner in the pediatric emergency department of VCU Health System Medical Center. Adding to her diverse background, Boston is also a certified nurse's aide, certified phlebotomy technician, and certified open water scuba diver.
Boston said she values the knowledge, confidence and experience of VCU's nursing faculty.
"The many resources and tools, like the simulation patients, are true assets," Boston said.
She said her goal in nursing is to support children, underserved communities and provide international medical outreach in a humanitarian way.
"Preventative health education and access to medical care and supplies are the major contributors to improving the health of children," Boston said.
Transformative Care
"We recognize that each and every day we impact somebody's life and make it a little bit better."
Monday, Oct. 28, 2013
While working as a nurse in Colorado, Tod Brindle witnessed something in medicine he had never seen before.
It involved the case of a trauma patient, who, after weeks of ongoing attention and unsuccessful treatments from surgeons and physicians, began treatment with a specialized nurse and finally started showing improvement. The nurse was a wound care specialist better equipped than even the doctors to heal the patient's injuries.
"It was the first time I had seen a physician team defer to a nurse, and it intrigued me," Brindle said.
That one case has inspired an accomplished career in wound care continence nursing and led to Brindle's transformative and widely respected work in the field – work that most recently led to the Virginia Commonwealth University Medical Center nurse's selection as one of five nurses nationwide to receive the American Nurses Credentialing Center's (ANCC) National Magnet Nurse of the Year® award for 2013.
A prestigious designation, this annual award recognizes outstanding contributions of clinical nurses for innovation, consultation, leadership and professional risk-taking. Brindle, an alumnus of the VCU School of Nursing, was chosen in the Exemplary Professional Practice category for his contributions of transformative ways to improve patient care quality.
Brindle now provides the kind of diligent, proficient patient care he witnessed in Colorado on a daily basis with his patients at VCU Medical Center.
"I don't know what I would have done without him," said Cathy Van Drew, a patient of Brindle's for nearly two years. "He has changed my life."
For Brindle, the opportunity to have that kind of impact on patients was what drew him to nursing. He started as a physical therapy student, but after rounding and volunteering, realized he wanted to be more involved in patient care. Coming from a long line of nurses in his family, the switch was easy for him.
Brindle finished his undergraduate education in nursing at the Ohio State University in 2001 and worked as a traveling nurse for several years. After his work in Colorado, he came to VCU Medical Center in 2005 and worked the night shift in cardiac surgery.
Still intrigued by the case in Colorado, Brindle looked into becoming a wound care continence nurse and attended the Enterostomal Therapy School at Cleveland Clinic in 2006. That same year, he earned his board certification from the Wound Ostomy and Continence Nursing Certification Board as a certified wound ostomy continence nurse (CWOCN).
The time was right for Brindle at VCU, which had an opening for a wound care nurse to join its team, and he's been there ever since. It's a role he enjoys and takes very seriously.
"The wound care certification expects you to be independent and autonomous," he said. "Your role is coming up with creative solutions in improving quality of life and patient outcomes. It's a responsibility that starts and stops with us."
He is on a team of seven wound care nurses at VCU Medical Center who work with patients all over the hospital, often in the operating room. The team sees patients in every unit and works with approximately 20 percent of the hospital's inpatient census.
Every wound care team member can treat any patient, but each has their own niche specialty. Brindle specializes in complex open abdominal wounds and the management in fistulas, abnormal connections between two organs or open abdominal wounds. In addition to serving the surgical trauma Intensive Care Unit (ICU), cardiac surgery ICU and Evan Haynes Burn Center, he also is the nurse clinician for the wound care team, developing and enforcing the evidence-based practice and clinical competency of the team.
"With some of these conditions, there is no evidence-based practice," Brindle said.
That's something he has set out to change.
We recognize that each and every day we impact somebody's life and make it a little bit better.
In 2012, Brindle, who earned his master's degree in nursing administration and leadership from the VCU School of Nursing two years ago, published research with Jacob Wegelin, Ph.D., assistant professor in the Department of Biostatistics in the School of Medicine, on new ways of dressing pressure ulcers, or bed sores. That research has not only changed clinical nursing practices at VCU Medical Center, but also has been adopted nationally and internationally by more than 1,100 hospitals in 10 countries.
His work led to a hospitalwide practice change at VCU to prevent pressure ulcers in the ICU, resulting in a reduction of Healthcare Acquired Pressure Ulcer (HAPU) rates from 8 percent to 2.4 percent. In addition, he developed an evidence-based intervention for patients with hemodynamic instability, the body's inability to maintain blood pressure or adequate heart function, and groundbreaking techniques to enhance care of patients with fistulas.
These accomplishments made him a shoo-in for a Magnet® award nomination, which came from his supervisor, Susan Creehan.
"It's the responsibility of every leader to provide the resources to help open doors for the members of your team to be successful at what they're passionate about," said Creehan, wound care team program manager at VCU Medical Center. "Tod's passion is palpable.
"He's just the whole package. He's brilliant, his clinical expertise (is) unmatched and his inquisitive mind to want to create new knowledge made my job easy. But underneath all of that is a sincerely kind, humble and fun team member, and a fabulous dad, husband and son. Every role that he's in, he excels."
His teammates agree. Patrick Alridge, former surgery trauma ICU nurse, said Brindle is the one who got him interested in wound care. Alridge saw all of the work and research Brindle was doing, and it piqued his interest in wound care so much that he joined the team two years ago.
"Tod's been, for the whole team, an incredible mentor with his knowledge and willingness to share what he knows and learns," Alridge said. "We are lucky to have him as our clinician.
"We've got our own superstar wound care nurse right here at VCU," he added. "If you consider what he's already contributed, for someone his age, he's got years and decades ahead of him – the sky's the limit for him."
The sentiments of his clinical teammates are echoed by patients such as Van Drew.
A nurse herself, Van Drew says she knows good nursing practice when she sees it, and she sees it all the time with Brindle.
"He puts his heart in his job," she said. "He is so worthy of being a Magnet award winner. I'm just so pleased about that."
Van Drew has suffered from ischemic colitis since 2001. Over time the condition has caused her colon to disintegrate. She's spent months in and out of hospitals, undergone multiple surgeries at various facilities, but she has a special place in her heart for Brindle's unique care.
"It was Tod that got me and my family through dealing with that," she said. "He worked magic, basically."
Van Drew underwent complex wound care at VCU Medical Center in 2012 and began working with Brindle every day when she developed fistulas from her bowel obstruction repair. After numerous caregivers could not properly fit her drainage bags to stay on for any length of time, Brindle engineered a setup that held the bag for days at a time, and he taught her husband and family members how to properly put it on so that it would stay.
"He was always available to us," Van Drew said. "We could call or text him with questions, and he would get right back to us and help us. He is such a great teacher – very patient and readily available."
Even when she went for an operation in Baltimore, Brindle kept in touch with her and even spoke to her nurses in order to help train them on how he fitted her dressings and bags. He also responded to her texts when he was traveling abroad to speak at a conference.
"It was a comfort for me to know that he was so available to me," she said. "He's part of our family now."
It is this kind of thorough care, coupled with his impactful research, that earned Brindle the coveted Magnet® award. In addition to Brindle, four other recipients were recognized for their achievements during the ANCC National Magnet Conference® from Oct. 2-4 in Orlando.
While he is proud of his research, enjoys educating other caregivers and appreciates the recognition, Brindle's true love and drive for nursing always goes back to the patient.
"We (nurses) leave every day recognizing that we've had a very hard day, we've had a long day, a challenging day," Brindle said. "But we recognize that each and every day we impact somebody's life and make it a little bit better."
Nursing students savor school's first white coat ceremony
Friday, Aug. 22, 2014
About 60 new undergraduate Virginia Commonwealth University School of Nursing students participated on Wednesday in the school's first-ever white coat ceremony, a rite of passage that welcomes students into medical professions.
The students entered Younger Auditorium in the VCU School of Nursing building – Sadie Heath Cabaniss Hall – dressed in scrubs, each holding his or her own white coat folded over one arm. They stood along the front of the room, facing their supporters, and heard from Jean Giddens, Ph.D., dean of the VCU School of Nursing.
"On one level the white coat symbolizes the science of nursing and the commitment to providing quality, safe, compassionate, patient-centered care, but on another level this white coat symbolizes a transformation that is about to happen to each and every one of you," Giddens said. "Starting tonight, the white coat represents you as a health care professional. You represent nursing and you represent the VCU School of Nursing."
After Giddens' remarks, faculty, staff and alumni helped each student don his or her white coat for the first time.
"The white coat ceremony was a physical manifestation of our place and acceptance into the nursing profession," said Aprille Singson, one of the nursing students who participated on Wednesday. "It really legitimized the importance of what we're all going to do in the future."
VCU was one of 100 schools of nursing across the country to be selected to receive funding support for the ceremony from the American Association of Colleges of Nursing and The Arnold P. Gold Foundation.
White coat ceremonies have occurred at medical schools for more than 20 years, but this new collaboration between APGF and AACN marks the first time a coordinated effort has been developed to offer similar events at schools of nursing.
The event's expansion into schools of nursing can be explained by the nursing profession's advancement over the years.
"Since our school was founded more than 120 years ago, nurses have gone from a nearly exclusive focus on bedside care to positions in the classroom, the laboratory, legislative chambers and the board room," Giddens said.
Rose Kepnang, a student who participated in the ceremony, agreed.
"After the white coat ceremony I feel a stronger sense of pride and appreciation for nursing as a science profession," she said. "Although nursing may be viewed as one of the most ethical professions out there, it isn't typically recognized as a scientific profession, even though, when it boils down to it, nursing has developed into the career it is today because of scientific research and discoveries."
The white coat ceremony was combined with the school's annual lamp lighting ceremony.
The lamp is a symbol rooted in the story of Florence Nightingale, who became known for carrying a lamp during her night rounds tending to wounded Crimean War soldiers.
It's still this influence that inspires many nurses.
"The thing I look forward to most about being a registered nurse is the fact that I will be able to touch people's lives in a way that no other professions out there can," Kepnang said. "I've always been an individual who had the spirit of wanting to help the world … We need strong-minded and dedicated individuals to look out for others, especially the sick and vulnerable. I look forward to taking on this challenging task."
Interdisciplinary Research
Dr. Jo Robins of the School of Nursing and Dr. Wendy Kliewer of the College of Humanities and Social Sciences.
*Reprinted from the VCU News Center
By
Sathya Achia Abraham, University Public Affairs

Frances Dumenci,
University Public Affairs

The Virginia Commonwealth University Presidential Research Quest Fund, or PeRQ Fund, formerly the Presidential Award Incentive Program, has announced its fifth round of internal funding awards totaling more than $850,000 to support faculty engaged in new, emerging or continuing research.
For 2013, 18 awards involving 23 faculty members received funding, supporting projects across the institution from the schools of Medicine, Allied Health, Arts, Education, Engineering, Nursing, Social Work, Dentistry, Business and Pharmacy, and from Life Sciences and the College of Humanities and Sciences.
The entire list of awards can be found at http://news.vcu.edu/pdfs/PRQFund2013.pdf.
"This fund provides new opportunities to researchers at all points in their careers across VCU and reflects our growing research enterprise," said VCU President Michael Rao, Ph.D. "Our investment is made knowing that the work that begins with the support of these resources will go on to receive significant external research funding and advance important scholarship and research."
Since 2010, this unique program has brought together investigators interested in common research paths from across schools and within departments to share expertise and knowledge.
One such example of interdisciplinary research is the work of Wendy Kliewer, Ph.D., chair and professor of psychology in the VCU College of Humanities and Sciences, and Jo Lynne Robins, Ph.D., assistant professor from the VCU School of Nursing, who received an award for Project HEART. Their study will examine the impact of stress on the physical body for mothers of teenagers in underserved communities in the Richmond area and its surrounding communities. Also, the study will examine relationships between stress and resiliency on heart health in adolescents and mothers living in underserved communities.
Different disciplines coming together
Project HEART brings together Kliewer's expertise in working with underserved, at-risk adolescents, particularly around the psychosocial concept of resilience, and Robins' expertise in women's health. Their partnership was facilitated by Robins' research mentor, Nancy McCain, D.S.N., Nursing Alumni Distinguished Professor in the VCU School of Nursing. Kliewer and Robins share an interest in improving resiliency, people's coping abilities and heart health.
In prior work, Kliewer examined the resiliency of adolescents from underserved communities through psychosocial measures. She found that the teenagers' level of resiliency – how they cope and what they feel – was based on the level of resiliency their mothers displayed.
Interested in viewing the bigger picture, Kliewer wanted go beyond the psychosocial outcomes to understand how psychosocial and physiologic effects come together when people are dealing with possible chronic stress. This required her to expand her research model to one that would examine the accumulative wear and tear on the body – which is an allostatic load research model.
That's where Robins' expertise came in.
"My research brings the biological piece," said Robins. "This initial study allows us to look at teens and their mothers across several psychosocial and physiologic measures."
With Robins on board, the research will probe biological measures not typically examined in psychology.
Robins' research was largely based on looking at cardiometabolic risks of women between the ages of 35 and 50. Specifically, she was researching the trajectory in women where at mid-life they gain weight – particularly abdominal weight – and how that abdominal fat acts more like an endocrine organ. The abdominal fat seems to produce hormones and other chemical messengers very much like the immune system and other systems in the body do.
The research team will partner in a community-based model in which they plan to collect biologic information from 100 adolescent/mother pairs in the Richmond area. The collected information will include weight, cholesterol, insulin levels and blood sugar to see how bodies adapt when under stress. In addition, there will be extensive questionnaires and qualitative interviews.
"We hope that the lab measures will give us an idea of what they look like at baseline – what are their particular life stressors, where are they physiologically in terms of weight and blood sugar for example," said Robins.
Ultimately, Kliewer and Robins hope to gain insight and feedback from the participants to develop an intervention to improve coping and resilience.
"We are asking them to share information about their lives. We hope ultimately this will lead to more empowerment," said Robins.
"We are very interested in creating a partnering relationship with these individuals, based on what they perceive they need. Both the research team and participants bring expertise and insight. We both can come to the table to determine what will make a difference," said Robins.
Robins said it is critical to build a respectful relationship between the research team and the study participants. She said that by gaining valuable insight from participants, researchers will be able to have a meaningful impact on the community.
This year, the Presidential Research Quest Fund received 65 applications from schools and colleges across VCU. Of the 65 applications, 18 were recommended for funding to the PeRQ Fund Review Committee.
"As an institution, this really says from the top level, from President Rao, and throughout the university, that our focus is on being a research-intensive university," said Robins.
"We should be making a difference in the lives of the people in Richmond and the surrounding communities. That is part of the purpose of the university … So the interdisciplinary partnerships and community partnerships are very important – those things will directly impact our ability to attract external funding in the future and aligns itself with VCU's strategic plan, Quest for Distinction," she said.
The university supported this round of PeRQ research through nearly $500,000, and the units provided matching dollars totaling more than $350,000. PeRQ dollars provide 60 percent of the award and the faculty member's department and/or school provided 40 percent. The funding period is 18 months beginning July 1.
A Collaborative Approach
Lauren Cranfill and other health care team members work on a simulated patient scenario.
Sathya Achia Abraham
Science Editor/Writer
University Public Affairs, VCU Across the Spectrum (www.spectrum.vcu.edu)
While recovering from recent surgery, the man lying in the hospital bed took a sudden turn for the worse. His vitals were crashing and he began coding. His health care team sprang into action. A team leader assessed the situation, flipped open the patient's chart and read aloud background information. She began to advise her team – a physician, two nurses, a care partner and a resident – what needed to happen next.
They mobilized and swiftly followed her lead, calling out medication doses and what they were doing as they were doing it. The efforts paid off, as the man – actually, a fully wireless, portable patient simulator that closely mimics the anatomical workings of the human body – started to stabilize.
The teammates – fourth-year students from the VCU schools of medicine and nursing – had just wrapped the fourth scenario in a series of eight simulator-driven situations that were part of an interprofessional education course, a new addition now being included in the curriculum of the health care schools at VCU.
After each scenario, the team had an opportunity to discuss their actions with each other and a faculty member who observed their interaction. With each subsequent scenario, there was marked improvement in communication and greater structure to how they performed their tasks and care for the patient.
VCU is among the leaders in interprofessional education – a growing trend used in the training of future generations of health care professionals. With little or limited opportunities to work together while still in school, many of these students would only have their first interaction with other health care disciplines on the first day on the job – with real patients.
Interprofessional education is designed to get multiple health care professions working as a team and communicating effectively. Many people may not realize that it takes the expertise of many different disciplines – physicians, nurses, pharmacists, care providers, technicians and more – to come together and care for a single patient. Each one of these experts needs to be on the same page and in agreement.
"Traditionally, with health care education, we've trained individual disciplines separately and expected them to come together as a team once they are taking care of patients," said Alan Dow, M.D., assistant vice president of VCU Health Sciences' Center for Interprofessional Education and Collaborative Care, and associate professor in the Department of Internal Medicine in the VCU School of Medicine.
"What we are trying to do is take the idea of working together as a team and bring it back into the classroom – into the safe areas like simulation where we can teach people how to work together as a team," he said.
Dow, a 2011 Macy Faculty Scholar, is leading a research project through support from the Josiah Macy Jr. Foundation to examine how increased collaboration among health professionals can improve patient care and how to teach team-based competencies that foster effective interprofessional practice. Dow is in the process of creating an interprofessional curriculum that other institutions can use, providing them with a toolkit for instruction and assessment to ensure successful adoption.
"At VCU, we've done small forms of interprofessional education projects for many years, but this is the first time we've really committed as a campus to doing large-scale interprofessional education where we're bringing together whole classes of learners to do various activities such as patient simulation or managing virtual patients," Dow said.
In 2013, the School of Medicine will be unveiling a newly designed curriculum that will launch a new standard in medical education.

"A key element in the new curriculum will be from day one, students working together in teams," said Isaac K. Wood, M.D., senior associate dean for medical education and student affairs in the VCU School of Medicine.
"They will learn in teams, teach each other in teams and evaluate team performance as this will be the cornerstone of how they function the remainder of their professional lives. Essential to this is functioning in interdisciplinary teams. Training students early on to cross-cultivate backgrounds, knowledge and skills is essential to assuring the highest and safest quality of patient care."
According to Dow, some of the communication tools they are training students to employ in the health care setting are derived from military and aviation training. This includes the SBAR – Situation, Background, Assessment, Recommendation; and Repeat-Backs/Call-outs, which are ideas of how people transfer information so that they understand as a group what's happening with a patient and how they need to move forward to take care of that patient.
Lauren Cranfill, a student in the VCU School of Nursing, participated in the once-a-week, two-week interprofessional education course and feels she has benefited from the interaction with fellow health care students considerably.
"It was a lot of effective communication and calling-back," said Cranfill, who graduates in December.
"You make sure that everyone around you is aware of what is going on so that the patient as a whole is taken care of, and everyone is clear (with what is going on)," she said. "I feel that now, in a code situation, I will not feel afraid or shy of interacting with anyone – med students, doctors etc."
Dow said that another advantage to improving communications is that it helps students learn to look at the patient more actively. Many times, doctors, nurses and techs are more focused at all the data – the monitors, the patient's test results – and less on the patient. So this way of learning also forces these students to look at the patient and assess their needs.
Additionally, the debriefing session provides further feedback and can help students learn by going back through how they handled the situation. It allows them to identify areas to improve on and provides reinforcement for positively managed situations.
Jean Ellen Zavertnik, a faculty member who has been involved in interprofessional education program efforts, said interprofessional education provides an element of cross-training where students can get an idea of what other disciplines do before they experience it in the field.
"For example, while medical students and nursing students may focus differently on patient care processes – each is integral to taking care of a patient," said Zavertnik.

"If we put our heads together, it can really impact the outcome for our patients – and that really is the bottom line – what can we do to improve quality patient outcomes."
According to Zavertnik, another benefit of communication and interaction between the disciplines in a simulated "safe" environment is to lessen communication barriers and perceptions of how students see each other. Initially, she said, students of one discipline may be intimidated by students of another discipline. But if they have exposure to each other early in the learning process, they can learn how to work together and have an understanding of what needs to take place to care for a patient.
Cranfill and her classmates believe interprofessional education will go a long way.
"I think the more experience we can have with this the better, because the reality of it is that we are going to be working in teams and we'll be working with other disciplines," Cranfill said. "The more practice we have the better for the patient."
Impactful Research
(From left to right) Mike Davis, Alison Montpetit, Curt Sessler, Paul Dalby, Michelle Jump and Lois Rowland display how the ALFA equipment connects to a ventilator.
Imagine being able to detect lung infections by just breathing into a device. Alison Montpetit, Ph.D., RN, assistant professor at the VCU School of Nursing, is leading an exhaled breath study that may one day lead to the design of a point-of-care or at-home test.
Montpetit is the principal investigator of an interdisciplinary team awarded a K99/R00 Pathways to Independence grant from the National Institute of Nursing Research of the National Institutes of Health. The $882,000 grant funds a five-year study, titled "Exhaled Biomarkers of Pulmonary Infection in the Critically Ill," that focuses on examining breath, blood and sputum of mechanically ventilated, critically ill patients for early signs of pulmonary infection.
The study involves working with patients in the Intensive Care Unit at VCU Medical Center using an Airway Lining Fluid Analyzer (ALFA). Connected through a ventilator, the ALFA collects, cools and condenses the patient's breath into water or exhaled breath condensate (EBC).
"In our study, we continuously monitor EBC pH, look for a panel of immune markers in EBC samples and analyze relationships between those biomarkers and a score of pulmonary infection." Montpetit said. "If we can identify those early biomarkers, we can develop a breath test to monitor for lung infection. By knowing an infectious process is developing, we can treat it earlier and subsequently prevent lung disease exacerbations and damage. This could have broad implications for patients in the hospital and at home."
A study of this scope requires collaboration with various clinicians and researchers in several health sciences at VCU and beyond. Montpetit's interdisciplinary team includes R.K. Elswick, Ph.D., co-investigator, biostatistician and professor of Nursing, Curt Sessler, M.D., co-investigator, the Orhan Muren Distinguished Professor and director of the Center for Adult Critical Care, VCU School of Medicine Mike Davis, B.S., RRT, project director and respiratory therapist; and Michelle Jump, a junior nursing student and research assistant. Because this study focuses on the mechanically ventilated population, one significant relationship is the partnership and support from the VCUHS Department of Respiratory Therapy specifically, Paul Dalby M.B.A., RRT, FACHE, VCUHS director of Respiratory Care and Pulmonary Function, and Lois Rowland, M.S., RRT, respiratory therapy education coordinator at VCUHS.
Jump, who gathers and organizes pertinent patient data and collects exhaled breath specimens, said she is proud to be a part of the team of clinicians and researchers.
"I work with amazing people who are passionate about elevating medical science through the integration of basic science with clinical care," said Jump, who aspires to become an intensive care RN. "There are not many institutions that are as adept at translational research as VCU, and Dr. Montpetit definitely heightens the university, as well as the School of Nursing, with her unique experience and skill sets."
The team also consults with John Hunt, M.D., associate professor in the Pediatric Respiratory Medicine & Allergy Division of UVA's School of Medicine. According to Montpetit, VCU and UVA are the first two sites in the nation to employ ALFA technology, which was developed by the U.S. Air Force and Respiratory Research, Inc., a UVA-faculty owned company.
Launched in April 2012, the R00 phase of the study currently has 18 of the 75 desired participants. The results hold promise for non-invasive early disease detection.
"We hope our findings will move us closer to the development of breath tests for detecting infection and improving health outcomes for patients suffering from lung disease" Montpetit said.
The clinical significance of Montpetit's exhaled breath research has not gone unnoticed in the nursing field. The R00 grant from National Institute of Nursing Research is the second she has received since coming to VCU, demonstrating her research's increasing value to nursing. In 2010, Montpetit was the School of Nursing's first postdoctoral fellow to receive the K99 grant, which was co-sponsored by Mary Jo Grap, Ph.D., R.N., FAAN, Nursing Alumni Distinguished Professor and interim associate dean of research. Grap has also worked with an interdisciplinary research team at VCU on the same topic for more than 15 years.
Having served as her mentor, Grap said she is proud to see Montpetit making an impact as a rising nurse scientist.
"Dr. Montpetit's program of research is incredibly innovative and solidly based on her exquisite background in the basic sciences," Grap said. "She is uniquely qualified to make considerable contributions to early, point of care testing that will provide important information for early diagnosis and treatment."
Nationally Renowned Faculty
Dr. Deborah McGuire addresses questions from Ph.D. students prior to their class presentations.
The Virginia Commonwealth University School of Nursing recently named Deborah B. McGuire, Ph.D., RN, FAAN,
a nationally renowned researcher in oncology and palliative care, its first ever Florence E. Elliott Professor.
The professorship is named after its benefactor, who served as a nursing arts instructor at the St. Philip School of Nursing from 1940 to 1943. St. Philip was a separate nursing school for African-American women at the Medical College of Virginia during racial segregation. Florence E. Elliott was an advocate for the nursing profession and believed in integration for students and faculty during her long career in teaching and administration. Before her death in 2004, she made numerous donations to the VCU School of Nursing over the years, including a special $100,000 gift that was used to establish the professorship.
"It's an honor to be awarded the title of an inspirational leader who was a trailblazer in her field," McGuire said.
The VCU School of Nursing is fortunate to have a distinguished researcher of McGuire's caliber serve as its first Florence E. Elliott Professor, said Jean Giddens, Ph.D., RN, FAAN, professor and dean of the VCU School of Nursing.
"Dr. McGuire's dedication to advancing nursing knowledge will build upon Ms. Elliott's ideals for our school and the nursing profession," Giddens said.
Before joining VCU in August, McGuire served as a professor at the University of Maryland School of Nursing, where she led the Developing Center of Excellence in Palliative Care Research and collaborated on the P30 University of Maryland Center for Pain Studies. She has also served as the co-director and director of a six-year educational grant from the Maryland affiliate of Susan G. Komen for the Cure® designed to enhance nursing, social work, and pharmacy students' awareness and knowledge of breast cancer.
McGuire said the reputation of the VCU School of Nursing, particularly its biobehavioral research, drew her to the university.
"VCU has a lot of resources to offer and it also possesses a unique culture because it encourages collaboration with professionals from different fields," said McGuire, whose interdisciplinary clinical research focuses on pain assessment, cancer-related symptoms and oral complications of cancer therapy.
At the VCU School of Nursing, McGuire teaches experimental design and other topics to PhD students and mentors them in oncology and palliative care research, as well as conducting interdisciplinary clinical research.
She is currently the principal investigator of a four-year NINR-funded R01 intervention study titled Managing Acute Pain in Non-Communicative Palliative Care Patients (5 RO1NR0 13664.02.) The study tests a pain management intervention in non-communicative, critically ill, palliative care patients. McGuire is working with R.K. Elswick, Jr., Ph.D., a professor at VCU, who is serving as co-investigator on this study, and with an interdisciplinary group of researchers at the University of Maryland, Baltimore, School of Medicine. Their objective is to provide nurses and other health care providers with a systematic approach for assessing and managing pain in order to reduce the instances of under recognition and under treatment that often occur with patients who are unable to self-report. If successful, this research will provide a new way for nurses to manage pain in this vulnerable population.
"When a patient is unable to tell you how he or she feels subjectively, nurses are forced to be more objective when assessing pain. This research will allow us to develop a vital process that nurses can use to confidently and accurately treat and improve a patient's outcome," McGuire said.
In addition to her research and teaching duties, McGuire has been named interim associate dean of research at the VCU School of Nursing, effective Jan.1, 2014, as Debra Lyon, Ph.D., RN, FNP-BC, FNAP, FAAN, who currently serves in that role, is retiring.
A highly sought-after oncology and palliative care expert, McGuire has published in many journals and serves as president of the International Society of Oral Oncology. She is also a member of the Mucositis Leadership Group of the Multinational Association for Supportive Care in Cancer/International Society for Oral Oncology, the Oncology Nursing Society, the Hospice and Palliative Nurses Association, and numerous other organizations.
McGuire earned a bachelor's degree in nursing from the University of Pennsylvania School of Nursing and received both a master's degree and Ph.D. in nursing from the University of Illinois at Chicago College of Nursing.
Serving Her Country
Elis Salamone (NP '10) has experienced adventure beyond her imagination while serving the United States in the field of military nursing.
Elis Salamone (NP '10) has experienced adventure beyond her imagination while serving the United States in the field of military nursing. She has spent 24 years completing various stateside and overseas assignments, including tours in Korea and England, as well as deployments to Germany and Afghanistan in support of Operation Iraqi and Enduring Freedom.
A member of the Air Force Nurse Corps since 1995, Salamone strives to improve the quality of life of those less fortunate than people here in the United States. She recently returned from an eight-month tour in Afghanistan, which she described as the most exciting tour out of all her years of serving in the military.
"This deployment has been very challenging professionally, and I have been grateful for my 20 years of nursing experience and my advance clinical skill class that I took while at VCU," said Salamone. "I've used many of those skills while being deployed. "
Salamone is currently the Element Leader in charge of the Women's Health Clinic at Peterson Air Force Base in Colorado Springs, Co., where she sees patients as a women's health nurse practitioner. During her most recent deployment, she was the Officer in charge of the Female Treatment Team (FTT) at the firebase in Afghanistan. FTT 's mission is to provide local women with better access to medical care and health education.
"I saw patients on a daily basis in the camp clinic and we also did village medical outreach programs where we provided medical care and support to the villagers," she said. "My daily routine varied on what was going on with missions, patients and day-to-day camp operations, such as air drops, distinguished visitors coming in or going to shuras (meetings) with key local elders."
Salamone has cared for patients in trauma, primary care, pediatrics and women's health while in Afghanistan. "I was basically the camp doctor and I've taken care of not only local nationals, but my team members and contractors on the camp," she said.
The desire to take care of others was nurtured in Salamone by her mother. A native of Puerto Rico, Salamone was raised in a single family household with two younger sisters, while her mother worked two to three jobs while attending school to become a nurse. Her family moved to the United States in 1972.
"My mother raised her girls with the value that without education we would always be challenged in the U.S," she said. "I grew up understanding the importance of education and hard work."
Salamone started her nursing career as a nurse's aid student during her junior year in high school and began working in home health and nursing homes directly after graduation. She enlisted in the Army on active duty in 1985. Following the completion of her active duty enlistment, she served in the Army Reserve before getting a direct commission in the Air Force in 1995. She graduated with a B.S.N. degree from Marymount University in 1994 at the same time her mother earned an AAS in nursing. "This has always been a highlight in our relationship," she said.
Salamone later continued her education, obtaining a master's degree in the women's health nurse practitioner track at VCU, where she earned the Temple Memorial Award upon graduation in 2010. This award is given annually to a student in the master's degree program who possesses characteristics that demonstrate exemplary performance as an advocate for the consumer of health care services in the profession of nursing.
"I'm very proud to be an alumnae of the graduate SON. During my time in graduate school I had great clinical rotations, wonderful caring professors and made life-long friends," she said. "It was really a great experience."
The women's health NP program at VCU equipped her with the skills necessary for her current responsibilities, according to Salamone.
"My Women's Health NP program was challenging and definitely prepared me for the real world of advanced practice nursing," she said. "The advance skills class is the one class that really prepared me for deployment.
Salamone said once she retires from the Air Force, she aspires to teach at a university level and be part of a dynamic women's health practice. She also hopes to conduct research studies on the health of military women.
"I'm interested in any studies that involve military women and how deployments affect their mental and physical health, "she said. "I also find adolescent female research interesting as this is a period of so much change and growth in human development."
Salamone wants to inspire and provide guidance to future nurses, as past professors did for her.
"I think the advance practice arena is extremely exciting as new laws and governance continues to allow us to not only expand our practice, but impact health care by improving access in areas with limited medical care resources." She said. "In particular military nursing is really making great advances with mentoring, education and training in these impoverished countries —improving their future is critical to improving the quality of life for these disadvantaged people."
International Service
Karen Mace, N '11, conducts a glucose screening during a Nursing Students Without Borders trip to the highland villages of Guatemala.
Nursing Students Without Borders, a non-profit organization of VCU students, routinely conducts health screenings and shares prevention information with vulnerable populations locally and internationally. On a 10-day trip to the rural highlands of Guatemala in January 2012, NSWB members put their nursing skills to use, along with some physical labor to help transform the lives of five families.
The students participated in building vented stoves for five households to prevent serious respiratory problems commonly associated with cooking on open fires in the kitchen. Working in pairs with the women of each family, they helped to mix the mortar, measure dimensions and lay the concrete blocks in layers.
Danielle Viggiani, a sophomore and president of NSWB, said a vented stove allows for greatly reduced cooking time and a properly ventilated kitchen area. Upper respiratory infection is a common cause of mortality among the villagers due to toxic smoke from open fires, she said.
"The women were so incredibly grateful it brought some of us to tears," Viggiani said. "It was amazing to be able to have formed such a bond with them despite the language barrier."
In addition to working with the five families, Viggiani and fellow NSWB members learned about Mayan health practices and shared preventive medicine during their journey to various Guatemalan villages. At one village 11,000 feet in elevation, students engaged in a dynamic discussion with midwives and lay health promoters about how to prevent dehydration in children, and how to recognize and treat early symptoms. At another village, students conducted health lectures and screenings, and filled out health passports for residents.
The trip was organized through a partnership with the Highland Support Project, an organization that works with indigenous communities in Guatemala to address critical social, environmental and economic issues. NSWB members sponsored their own travel through group and individual fund-raisers.
Fay Parpart, R.N., M.S., ANP-BC, AACRN, VCU assistant professor in the Family and Community Health Nursing Department, who accompanied the students to Guatemala, said the Highland Support Project representatives were very grateful for VCU's participation in the trip. They cited an example of the students' impact -- while testing blood glucose levels, they identified a woman who was in the early stages of developing diabetes. The woman will now undergo a series of doctor's visits.
"The trip offered our students the opportunity to develop health promotion strategies for lay health promoters, midwives and community members while assuring cultural appropriateness and availability of resources in rural Guatemala," Parpart said. "The students were able to use clinical knowledge they had learned in various nursing courses and clinicals."
Along with Viggiani, NSWB members who traveled to Guatemala include Karen Mace, Michele Olson and Meredith Black, all December graduates with accelerated bachelor's degrees; Pamela Faust and Kate Amrhein, juniors in the accelerator bachelor's program; and Christina Lack, Rachel Lim and Shannon Storey, juniors in the traditional bachelor's program.
Viggiani said the experience was unforgettable. "I don't think I will ever meet a more amazing group of women than those than those that joined me on this trip, those that made this trip possible and those I met in Guatemala working hard to empower their communities," she said.
Making it Real
Shannon Storey in the NICU.
If Shannon Storey's high school self could see her now, she might not recognize the confident, thriving student on her way to a professional career as a nurse. Growing up, Shannon struggled with her own emotional health and a poor self-image. She knew that before she could dedicate her life to helping others, she would have to win her internal battles.
Click here to hear Shannon share her dream and how she came to VCU to make it real!
Saving a Life
Jessica Norman donated a kidney to a stranger.
Virginia Commonwealth University School of Nursing student Jessica Norman has started her final year of nursing school just weeks after recovering from donating her kidney to a stranger at the Hume-Lee Transplant Center at the VCU Medical Center.
While on Facebook in April, the 22-year old Norman came across a posting on Facebook titled "SaveMitchell.com," where she learned about the plight of Mitchell Lyne, a young man who needed a third kidney transplant after complications with the first kidney and continued medical challenges with his second kidney.
"After following his story, I decided that I didn't want to live my life as the type of person that simply reads or hears about a touching story and does nothing about it," said Norman. "So in May I began doing research about living kidney donation, and, after several weeks of research, I decided that I was comfortable enough to go get tested to see if I was a match for Mitchell."
While Norman's kidney was not a match, she decided to donate her kidney to an anonymous patient, which allowed that patient's donor to give his or her kidney to Lyne — a program known as the living donor paired exchanged.
I didn't look at it as "giving my kidney up," said Norman. "I look at it as my kidney is getting a new home — a home in someone who needs it and who, without it, would die."
The procedure took place in early August and by the end of the month, Norman began classes and started her 20-hours-a-week work commitment in the hospital recovery unit.
"She is an extraordinary student but more than that, she is an incredible human being," said Alison Montpetit, Ph.D., VCU assistant professor of nursing. "Jessica Norman is a nurse and has made our school and our profession incredibly proud."
Norman is a student in nursing's accelerated bachelor's program and class director for the School of Nursing class of 2012. The Henrico County native has a bachelor's degree in government and international politics from George Mason University.
"I like to challenge myself and really push my boundaries," said Norman. "I'm not the type of person that sits around with nothing to do."
Future Nurse Scientist
Kristin Filler works in the research lab with her advisor and mentor, Dr. Debra Lyon.
Virginia Commonwealth University Ph.D. candidate Kristin Filler, (B.S. '09), RN, is proving that a commitment to nursing excellence reaps big rewards. Within three consecutive months, she has won three prestigious nursing awards that will help realize her career goal of becoming a nurse scientist.
Filler won awards from the American Cancer Society (ACS), the National Institute of Nursing Research (NINR) and the Jonas Center for Nursing Excellence. With a research focus in symptom management and fatigue in women with advanced breast cancer, she has earned national recognition for her leadership skills and potential to make a difference in nursing education.
"Kristin Filler is a prototype for a successful BS to PhD student in nursing. Her personal qualities of maturity, conscientiousness and a strong work ethic have propelled her towards a promising future as a nursing scientist," said Debra Lyon, PhD, RN, FNP-BC, FNAP, FAAN, the Judith B. Collins and Joseph M. Teefey Distinguished Professor and chair of the Family and Community Health Nursing Department, who serves as Filler's advisor and mentor.
Filler started at the VCU School of Nursing in the fall of 2005 as a bachelor's degree candidate. After realizing she had a strong interest in both nursing education and research, she worked as a teaching assistant for Dean Nancy Langston, Ph.D., RN, FAAN, during her junior and senior years and also worked in the Center for Biobehavioral Clinical Research as a senior. Filler said Dean Langston encouraged her to obtain a Ph.D. degree in nursing, so she applied after she graduated with her B.S. and was accepted into VCU's Ph.D. program.
While pursing her doctorate, Filler works 20 hours per week on cancer research with Lyon's grant team and works as an oncology RN at the VCU Health System. ACS awarded her a Doctoral Degree Scholarship that will aid in her cancer nursing research. This scholarship is awarded to graduate students pursuing doctoral study in the field of cancer nursing research, and preparing for careers as nurse scientists. Filler was also accepted into the highly competitive National Institute of Nursing Research's Graduate Partnerships Program, a doctoral fellowship training program that coordinates training and funding for doctoral students attending a school of nursing.
"Being accepted was a mix of emotions; it's exciting but also kind of nerve racking because NINR is among the 'big wigs' of nursing," Filler said. "I'm honored and very humbled at the same time. I know it will be an outstanding once in a life time research opportunity for me."
Filler has also won another very competitive honor – she is one of 142 nursing doctoral candidates nationwide selected for the Jonas Nurse Leaders Scholar program of the Jonas Center for Nursing Excellence. The program provides financial assistance, leadership development and mentoring support to expand the pipeline of future nurse faculty into research-focused and practice-focused doctoral nursing programs.
"We are excited and proud to have Kristin represent VCU Nursing in this prestigious leadership development program," Lyon said. "This opportunity is consistent with our efforts to remain one of the nation's best schools for educating nursing leaders. "
In addition to her busy research and classroom schedule, Filler is very involved in other School of Nursing activities. She is the president of Sigma Theta Tau, the honor society of nursing, and serves as the secretary of the local chapter of the Oncology Nursing Society, an organization that works on educating nurses on cancer and symptom management. A student representative on the school's Doctoral Program Committee, where she advocates for her fellow classmates and students, Filler is also involved in fundraising campaigns for the school.
"The School of Nursing has done so much for me over the past seven years that I just feel like anything I can do to help them in return, I try to do through service," she said. "The faculty have been very supportive and have inspired me to focus on nursing research and education."
Alumni Engagement
VCU Nursing alumna Paula Saxby is on a mission to get more alumni involved in their school and in the university as a whole.
College alumni are known to express their school pride and loyalty in different ways. Some don attire in school colors or display a school license plate on their cars. Others cheer on their alma mater at athletic contests or return to campus to reconnect with classmates at reunions. And then there are those who take it even further, volunteering time and talent to support their alma mater's mission and goals.
VCU School of Nursing alumna Paula Saxby, Ph.D., M. S., R.N., is on a mission to tap the time and talent of more alumni. Dr. Saxby recently became president of the MCV Alumni Association, a role she will serve in for the next two years.
"We have the opportunity to increase membership, as well as get alumni engaged in their school and in the university as a whole," Dr. Saxby said. "Our goal is to get alumni involved at different levels, including with students."
Her presidency demonstrates the School of Nursing's record of developing leaders and offers increased exposure for the School among all VCU alumni.
"The School of Nursing is proud that one of our alumni has the opportunity to take the alumni association to new heights of excellence," said Nancy Langston, Ph.D., R.N., FAAN, dean of the VCU School of Nursing. "We look forward to supporting Dr. Saxby's efforts as we explore new approaches to getting more nursing alumni involved with the university."
Dr. Saxby's service with the alumni association began when she served as vice president of the Nursing Division for two terms. She then served as a board member at-large for two years, became president-elect for two years and took on her current role in July 2011. It's a volunteer position, but Dr. Saxby welcomes it wholeheartedly, even amidst the challenges.
"There are discussions being held by both the VCU and MCV Alumni Associations boards to become better aligned with the university's new strategic plan "Quest for Distinction," said Dr. Saxby, who works full-time as deputy executive director of the Virginia Board of Nursing and also serves as an adjunct professor in the School of Nursing. "The challenge for me as president is to move the university agenda forward while preserving and celebrating the heritage of MCV. "I'm very committed to doing both."
Dr. Saxby is no stranger to overcoming challenges. When she was just out of high school she worked in a Bethesda, Md. primary care physician's office as an assistant.
"I drew blood, gave injections and did lab results," Dr. Saxby said. "He trained me to do everything".
When her first husband, who was in the Navy, was transferred to Portsmouth Naval Hospital, she found herself in Portsmouth without a job. That's when nursing school at Old Dominion University seemed like the best option.
"At that time I chose to attend ODU because there was talk about the entry into practice of nurses at the baccalaureate level," she said. "Interestingly enough, we're still talking about that 40 years later. "
Dr. Saxby earned a B.S.N. from ODU and then worked as a nurse in Norfolk before moving to Richmond to pursue an M.S. in psychiatric nursing and Ph.D. in nursing administration and health sciences research at the VCU School of Nursing. She said she considered both VCU and UVA for continuing her nursing education, but chose VCU because of the faculty and the program.
"It didn't hurt that I got divorced and then married someone from Richmond," she added, while chuckling. She also had her first child while in the Master's program, and then had her second child while in the Ph.D. program.
Dr. Saxby's Ph.D. from VCU was more than just a personal accomplishment – it represented a milestone for the School of Nursing, since her class was the first that graduated in the doctorate program. She recalled how helpful it was to have Dr. Mary Corley as her nursing administration/leadership mentor and Dr. Janet Younger on her dissertation committee.
"She (Dr. Younger) was very helpful and supportive of me doing my own statistical analysis of my dissertation," Dr. Saxby said.
Before her current position at the Virginia Board of Nursing, Dr. Saxby worked in various nursing and leadership positions, including assistant director of nursing at the Psychiatric Institute of Richmond, professor in the VCU School of Nursing, licensing administrator at the Department of Social Services, and project director of the Women's Stress Resource Center (a National Institute of Mental Health funded research grant) at the UVA School of Nursing.
At the Virginia Board of Nursing, Dr. Saxby manages the approval process for all pre-licensure nursing education programs and nurse aide education programs in Virginia. In addition to working full-time and leading the MCVAA, she teaches a nursing ethics course at the School of Nursing in its R.N. to B.S. program.
Dr. Saxby recommends that all levels of nurses continue their education toward advanced degrees in nursing. She also encourages School of Nursing alumni to get involved with alumni activities and engagement with the students.
"We need your support now more than ever before," Dr. Saxby said. "It's not only a nice thing to do, but it's also a very rewarding experience."
Opportunity
"My dream is to have a health care system with a real school of nursing – like the VCU School of Nursing."
Ana Diallo's first impressions of nursing convinced her that it was a field she would never enter.
Growing up in Guinea, Africa, Diallo, a senior in Virginia Commonwealth University's School of Nursing, was frequently in and out of local hospitals with family members who needed care. She saw nurses who were only there to help prepare patients for the doctors and rarely had the skills to treat patients.
"Nurses in Guinea don't have as much power as the nurses here," she said.
Diallo also witnessed a health care system that wasn't centered on the needs of patients. Without insurance and the resources and skills needed to offer modern care, many patients die of diseases that are easily prevented and treated in the U.S.
"You don't hear a lot about chronic diseases, because people don't know how to deal with them," Diallo said. "I lived for 19 years in a country where cholera is an epidemic and people are dying from it every year. It's only when I came to VCU that I found out there is a vaccine against cholera."
However, she knew she wanted to help people and make a difference. After shadowing Cuban nurses in Chad, Africa, who had more independence and influence at the hospital, she discovered that medical school wasn't her only option. Diallo later enrolled in VCU's traditional Bachelor of Science in nursing program, where she also had the opportunity to get hands-on experience in a variety of settings.
"I volunteered at Johnston-Willis Hospital and at CrossOver Health Center," she said. "It was a great opportunity to have this comparison between Johnston-Willis, where everything is set up and you have this perfect hospital, and CrossOver, where they just have to work with the resources they have."
Diallo has her sights set on combining her nursing degree with graduate education in public health and health administration. She hopes to return to developing countries to improve the access to health care and training for providers.
"My dream is to have a health care system with a real school of nursing – like the VCU School of Nursing," she said. "Education is a big part of what is lacking and nurses are very needed there."
In the meantime, Diallo says she continues to fall more in love with nursing school at VCU.
"I know the other side of nursing," she said. "Here there's a health care system that responds to the patient's needs and takes care of them. I know that I have this opportunity, this chance, that many people don't have back home, so I enjoy it more and don't take it for granted."
Partnerships
These [interdisciplinary] partnerships enrich our research and provide wonderful opportunities for the students working with us on these studies.
When Alison Montpetit, Ph.D., RN, came to the Virginia Commonwealth University School of Nursing to complete a postdoctoral fellowship in July 2008, she knew of the school's stellar reputation for research and collaboration.
"I chose VCU because the researchers here have a proven track record of interdisciplinary, clinically relevant research in my area," Montpetit said.
Montpetit's work focuses on the care of mechanically ventilated patients and hospital-acquired pneumonia. Patients on mechanical ventilators have a one-in-four chance of developing pneumonia that they did not have upon entering the hospital. Montpetit's research examines noninvasive methods of identifying biomarkers that would indicate the onset of pneumonia. She has since become the first postdoctoral student in the VCU School of Nursing to receive a K99 grant from National Institute of Nursing Research, one of 27 institutes and centers that make up the National Institutes of Health.
"The faculty and senior investigators at VCU were so supportive of the K99 application and my work," she said. "As a junior researcher, the experience as a postdoctoral fellow and applying for the grant has provided a solid foundation for an independent career in academic research."
Montpetit began working with Mary Jo Grap, Ph.D., R.N., FAAN, whose research centers on the same area. Over the past 15 years, Grap and other VCU School of Nursing faculty members have built a substantial body of research focused on caring for mechanically ventilated patients. Those discoveries have positively impacted care in the ICU and improved lives for countless patients.
Working together as a team represents the future of research and no researcher illustrates the benefits of teamwork better than Grap. She and her group, which began collaborating in 1995, explored their interest in critical care, specifically issues around mechanically ventilated patients. In 1998, they received their first NINR grant studying backrest elevation and oral health in mechanically ventilated patients.
Since that first grant, collaboration remains a strong component of Grap's work and her research still centers on the care of mechanically ventilated patients. Support from other nurse scientists and researchers in medicine, dentistry and biomedical engineering factors in as well.
"These partnerships enrich our research and provide wonderful opportunities for the students working with us on these studies," Grap said.
In 2001, Grap further expanded her research as she received a $1.5 million R01 grant through the NINR to study "Sedation Effects in Mechanically Ventilated Patients." Most recently, she started a new project studying the impact on backrest elevation on skin integrity on the critically ill through another NINR grant. Using a computerized pad, she measures a patient's pressure points to determine if elevation leads to pressure ulcers. To prevent pneumonia, mechanically ventilated patients are positioned at a 45-degree angle. Grap will determine if this angle leads to pressure ulcers over time.
Now a tenure-track faculty member at the VCU School of Nursing, Montpetit says the opportunity to continue collaborating with others across the university and the VCU Medical Center simplified her decision to remain at VCU after her fellowship.
"The place to do critical care research is here at the VCU School of Nursing," she said.
And the chance to work with Grap sealed the deal.
"She is a pioneer in critical care research," Montpetit said of Grap. "To be mentored by her and to have the privilege to follow in her footsteps is an honor."
Ph.D. Perspectives
"I want to pass on what I have been learning in this country about nursing and research so that nursing science continues to move forward."
Growing up in Japan, Yui Matsuda did not have much interaction with the health care arena, but she found an unexpected calling to the field.
"At home, nursing is perceived as a submissive role, which isn't my personality," she said. "My family and friends were very surprised when I decided to become a nurse."
Matsuda chose to begin her nursing studies in the U.S. to improve her English-language skills and completed her Bachelor of Science in Nursing at a rural school in Virginia. Now a doctoral student in the Virginia Commonwealth University School of Nursing, she has earned a graduate research assistant position with the Center for Biobehavioral and Clinical Research. As a staff nurse at VCU, she was fascinated by the collaboration in patient care and found the interdisciplinary nature of research to be even more collaborative and exciting.
"We look at the person as a whole and even beyond, to how they interact with their family and friends, how those relationships and societal structure may impact their health," she said. "We don't just look at one organ or specialty — we have a broader perspective."
In addition to supervising research assistants in the CBCR and assisting with organizing the center's projects and associated activities, Matsuda is pursuing her own research interests of family planning in Latino couples. She first became interested in the subject after visiting her husband's village in El Salvador, where she saw many single mothers and started to question the dynamics that lead to their predicament. As part of her dissertation, she hopes to learn more about the complexity of family planning discussions and find ways to support partners in improving these discussions. Ultimately, she wants to improve family reproductive and health outcomes and quality of life for the family.
"My husband's presence in my life has definitely influenced my research topic," she said. "Family planning is traditionally seen as a female matter, even though conception is a couple's activity. I've been learning about the Latino culture, but I'll never be a Latina, so it's been comforting to know that my husband can provide culturally sensitive input."
Matsuda has been impressed with the support she's received from the faculty in the School of Nursing.
"My interactions with professors have been really encouraging," she said. "I get to see them as a person and learn from them. It has been a wonderful learning experience to have mentors that are kind and generous with their guidance. Their support has pushed me to see and do more."
She hopes to carry her experiences at VCU forward and return to Japan or other international locations to help train the next generation of health care professionals and continue her research trajectory.
"I want to pass on what I have been learning in this country about nursing and research so that nursing science continues to move forward," Matsuda said. "Providing direct patient care is important and imminently needed, but I also see the importance of research and teaching. If I teach nurses, they can teach others — those numbers multiply quickly."
Take flight
"Until you get into nursing, you don't realize how many different job opportunities there are."
Chris Stevenson's sense of adventure pushed him to take leaps throughout his path in emergency medicine.
Stevenson started his career in the intensive care unit, but when an opening came up for a flight nurse with LifeEvac, Virginia Commonwealth University's medical helicopter, he decided to change directions.
"Flight nurses operate on patient guidelines and we have some skills that nurses typically don't do – they're typically paramedic skills," he said. "I didn't know anything about nursing until I was a volunteer EMT and I started interacting with them in the emergency department. It was always the nurses that seemed to run the show and that impressed me."
The high-acuity, independent practice turned out to be a natural fit and Stevenson was later elevated to the chief flight nurse position.
"Being the chief flight nurse is an exciting job," he said. "We deal with all different patient populations and all different age groups. I can be at our base in Dinwiddie in the morning, Norfolk at lunch time, Lynchburg at dinner time and North Carolina at midnight."
Despite the thrill of being a flight nurse, Stevenson was still on the lookout for new opportunities in the field. When one of his staff members returned to nursing school and put her flight nurse skills to use in cardiac surgery, he recognized the range of experiences he could have in the field. Stevenson soon enrolled in the VCU School of Nursing's adult health acute care nurse practitioner program.
"Until you get into nursing, you don't realize how many different job opportunities there are," he said.
Stevenson knew that his ability to trust his instincts and take risks that had always benefited him in the air would come in handy during his nursing education, but he also recognized those same characteristics in many of his classmates. In particular, he noticed a growing number of men taking a similar leap and entering a field that has traditionally attracted more women.
"With men, it seems to be much more a second career than a first career," he said. "I have some nurses who work for me who were welders and I have nurses that were in the Navy as corpsmen or were paramedics in the past. I think it brings a lot of diversity when you have people who come from other professions or industries and bring a different perspective."
For now, Stevenson has discovered that his adventures in nursing school aren't just preparing him for the future. He's noticed a growing understanding of patients' medical history and how that insight impacts his ability to treat them on the fly.
"As I go through more and more course work in the graduate program, it's giving me the big picture of the patient that I usually only had a snapshot of," he said. "I have a greater ability to really understand where they are in their medical history and what their underlying problems might be. My track will certainly make me a more well-rounded flight nurse, but also better manage and educate my staff."
Urgent care
"I thought that coming to nursing would give me a better insight to teach folks and help expand my profession."
A challenge from his father pointed Mike Watkins to a career of serving the community and helping those in need.
As a junior in high school, Watkins' father encouraged him to help out in the community, so he signed on as a member of the junior rescue squad, sparking an immediate interest in medicine. He spent 20 years working in EMS, including 10 years with Hanover County Fire EMS and seven years as a flight paramedic for VCU LifeEvac, before deciding on a career change that led him to the Virginia Commonwealth University School of Nursing.
"I was looking for new challenges and ways to expand myself," he said. "I've done a lot of teaching, trying to build up paramedics. I thought that coming to nursing would give me a better insight to teach folks and help expand my profession."
Returning to school wasn't easy, though. Watkins juggled a family with two children and work with his course requirements for VCU's accelerated Bachelor of Science in nursing program, while also completing his Master of Public Administration.
"By going back to school full time, I was able to take my core classes for the M.P.A. and I actually finished my professional paper while in my second semester of nursing school," he said. "My two kids were also pretty young, so another benefit was that VCU's day care was right next to the School of Nursing. I could drop them off, go to school and pick them up. It would have been much more challenging anywhere else."
After graduating from nursing school in 2009, Watkins and his family have returned to a more balanced lifestyle.
"My wife is now a part-time nurse and I work full time," he said. "That's the advantage of nursing. You have the ability to be flexible. I think that's a very good thing for the future."
Watkins also returned to his roots, working in the emergency department at CJW Medical Center – Chippenham in Richmond, Va.
"When you deal in emergency medicine, you never know what is going to happen," he said. "You run the gamut from being a clinical operation, taking care of very run-of-the-mill things to extremely ill patients. Every call, every patient who comes through is just a little bit different. It's nice to have that diversity."